This blog is a little out of order as I actually took another trip to Paris in September 2022. this previous trip was with some of my friends at the time, however, the vibes were off and overall I didn't enjoy the trip. Fortunately, Haydn and I had Disneyland tickets that needed to be used before the end of March 2023. The tickets were brought back in 2020 before the pandemic. Haydn and I decided to use those tickets in December 2022 which would not only allow us to spend some time at Disney during the festive season but also I would be able to re-experience Paris.
Day 1 – Wednesday 7th December
In order to maximise our time at Disney, Haydn and I decided to fly to Paris late on Wednesday. We got to our hotel just after 9.30pm. Both of us were really pleased with the hotel, we stayed at the Moxy Paris Val d'Europe which is part of the Marriot hotel group. The hotel only opened a few months prior on the 21st of September and everything still looked really fresh. I loved the theming of the place ad the decor around the reception area was great. There was lots of space to relax after a long day at the Disney parks and even had pool tables, a gym and work spaces which would likely suit a variety of people. What I liked best about the hotel was that it is within walking distance of the parks!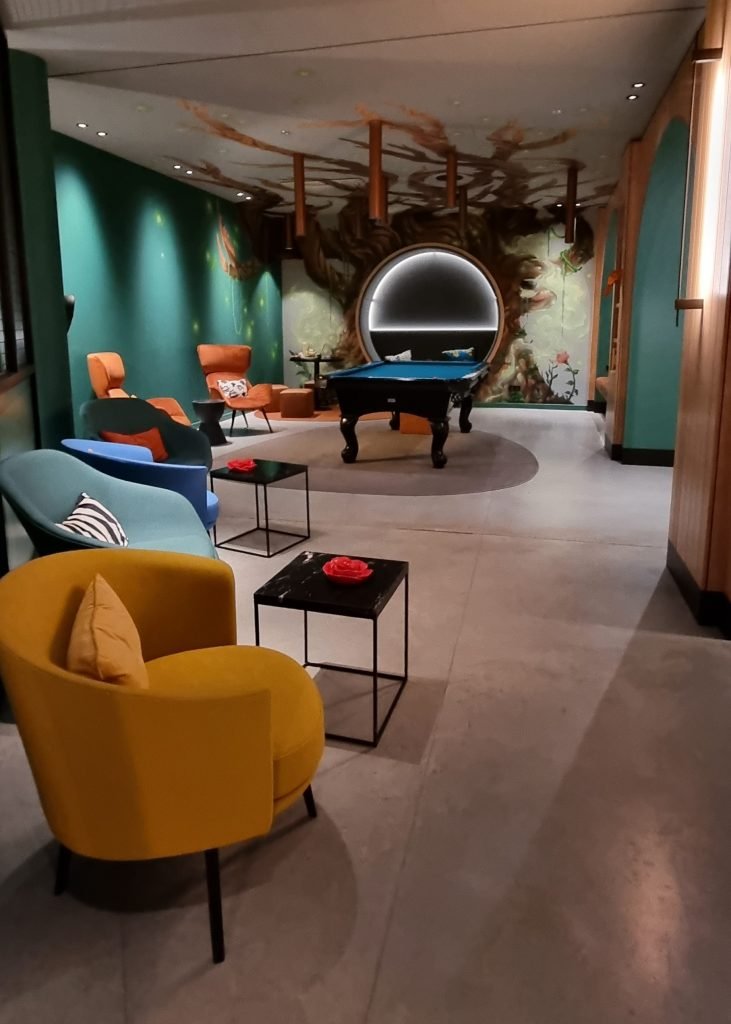 At the time that we booked the hotel, it was very affordable although it does seem to have gone up in price since. Our 3-night stay was less than £100 per night however now, the lowest price I can see for the same length stay in December 2023 is £127 per night. I still think that this is a great choice for a Disney hotel given it's close proximity to the packs and modern furnishings.
After checking we just went to the local shops and picked up some snacks for the morning and whilst in the park. We decided not to pay for breakfast at the hotel and instead opted to enjoy some Parisian-style pastries each morning.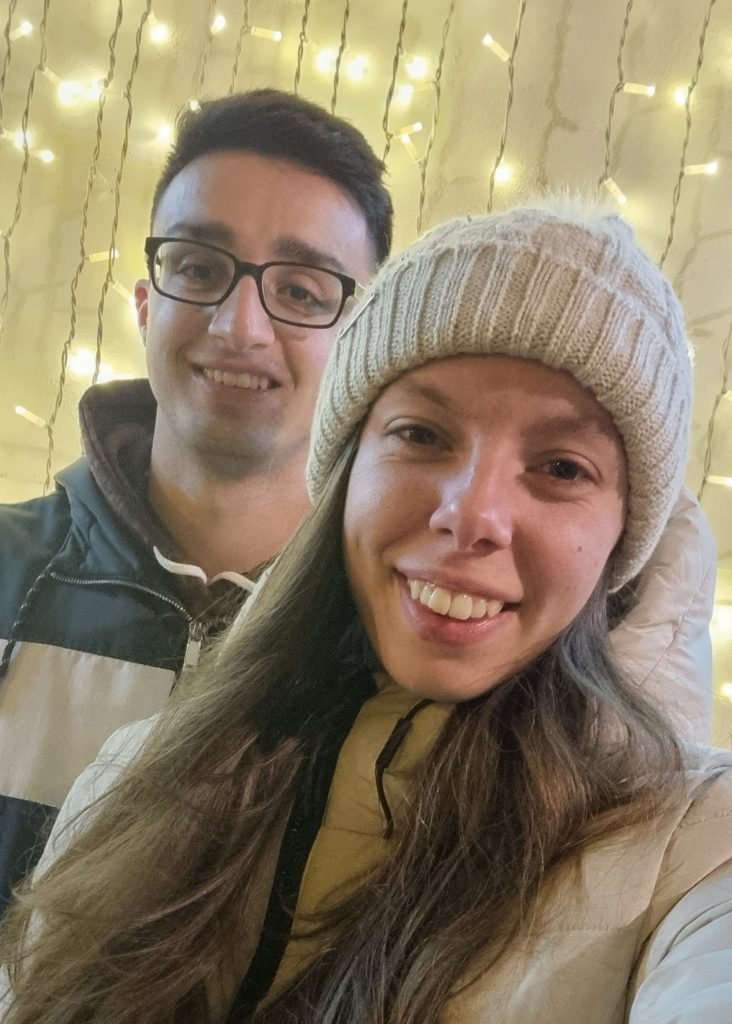 Day 2 – Thursday 8th December
In true Disney day fashion, Haydn and I got up early in order to get to the park for opening. On our first day we had a park hopper ticket, allowing us to go between Walt Disney Studios® Park and Disneyland® Park. For the second day, we only had access to Disneyland® Park. Booking two separate single tickets was the most cost-effective for us as we knew we wouldn't want to go back to Walt Disney Studios on the second day.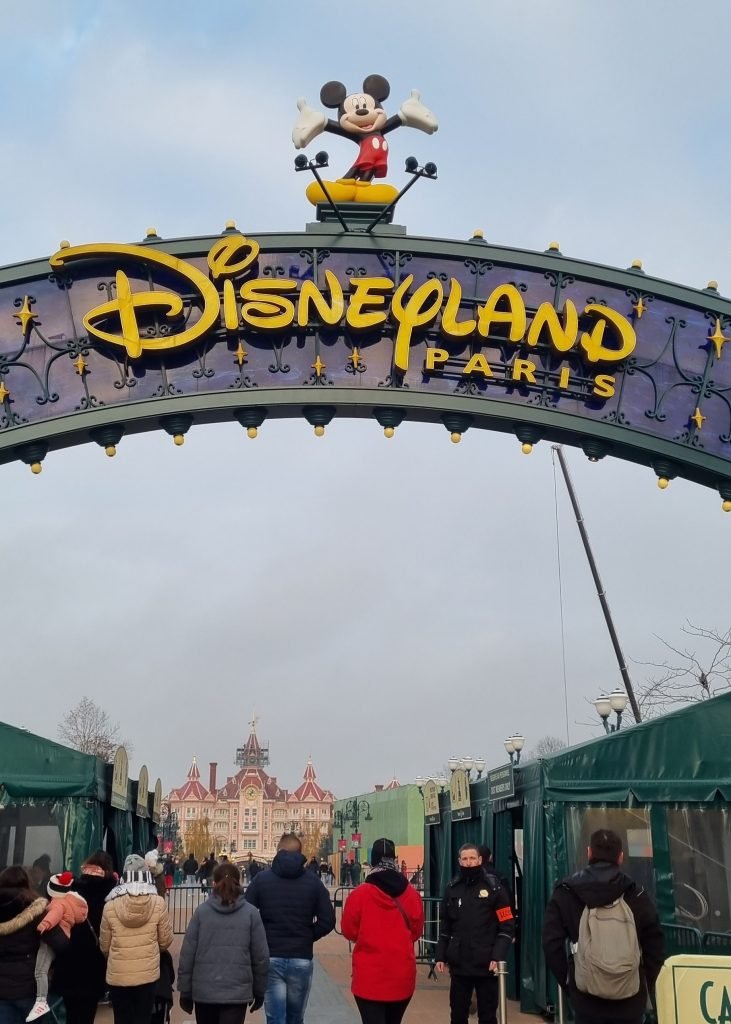 In all honesty, the Walt Disney Studios® park wasn't overly festive and I was somewhat underwhelmed having set my expectations high for a magical Christmasy park – thanks mostly to TikTok. However, I hadn't been to Disneyland Paris since I was about 7 years old so my memories of the park were quite minimal and therefore I loved seeing the park all over again.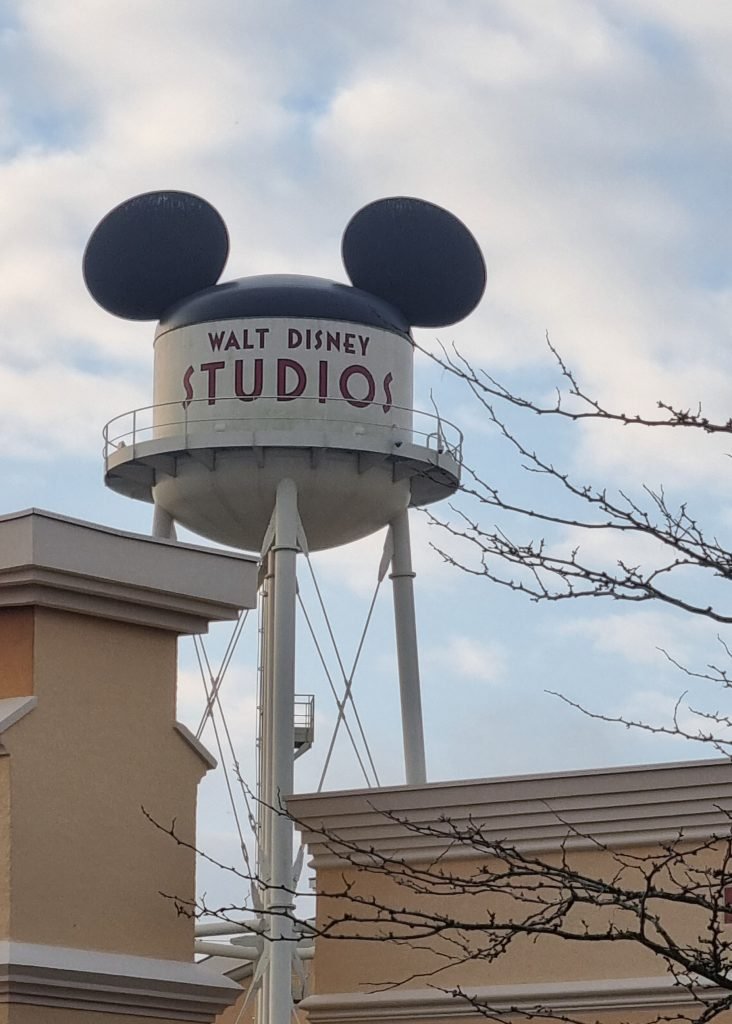 My favourite area was Playland… Having two guinea pigs called Buzz and Woody at home this wasn't much of a surprise!
There doesn't seem to be that many rides for adults in this park however, Haydn was keen to ride Crush's Coaster after he enjoyed it whilst on a school trip back in his early teenage years. We queued for the ride and I must say it was a pretty fun coaster. Annoyingly this was one of the longest queues of the day and as it was one of the outside (although under shelter) switch-back style queues it seemed to go on forever! Once we made it into the main building it didn't seem to take very long before we were finally on the ride! We did a few of the other rides in this park quickly by doing the single-rider queue, I personally don't mind riding without Haydn since we don't really talk to each other whilst on the ride and already knew we wouldn't be buying any of the photos. In fact, we got quite lucky with single-rider queues and ended up on the same train most times around which meant neither of us was waiting for the other at the ride exit.
My favourite ride from this park is probably Avengers Assemble: Flight Force. It's one of the newest rides at the park and I loved the track-style train which featured a launch at the beginning. The whole Avengers area was really well-themed and the immersive SpiderMan W.E.B adventure ride was a highlight as well. Doing single riders and jumping into the Flight Force queue just after it opened for the first time that day meant we really didn't queue too long for any of the rides in this area. We even decided to have lunch at the Stark Factory. It was a little expensive as you would expect but for portion size, I didn't think it was massively unreasonable. Haydn and I both got pasta and found it to be tasty and really filling – in hindsight it was probably our best Disneyland meal of the visit.
After lunch we moved across to the Disneyland® Park. As Disney was celebrating its 30th anniversary there was some themed signing around the entrance to this park. That's something I respect Disney do better than most other theme parks, they really decorate for anniversaries or special occasions which help to make each visit feel slightly different and significant.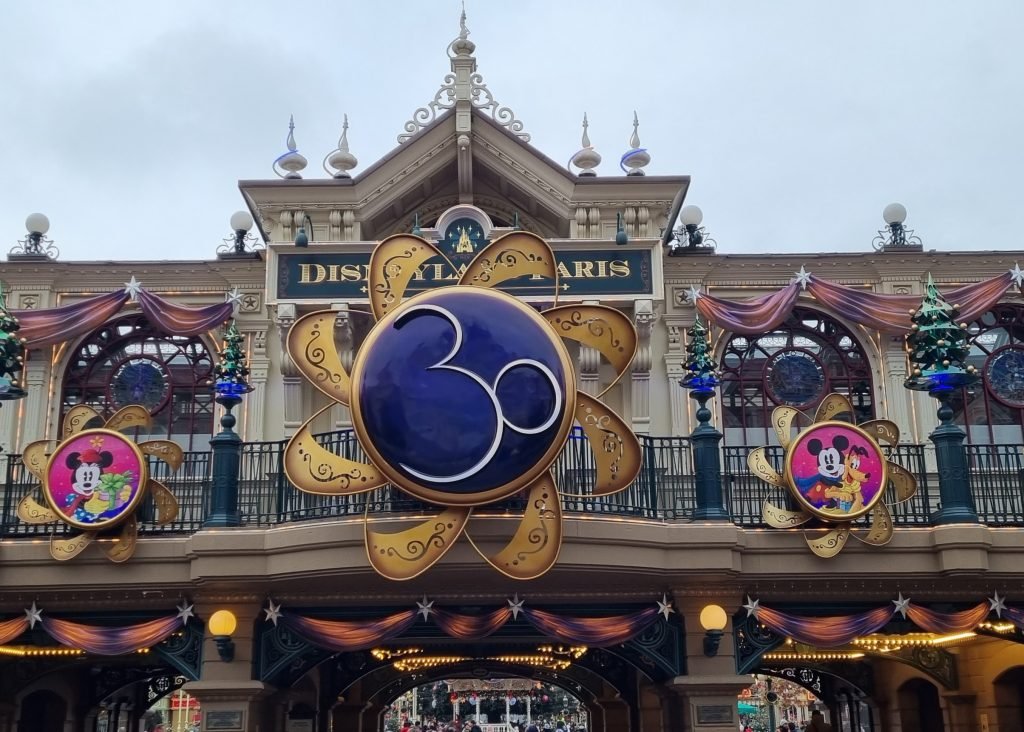 Once inside this park my expectations for a bit of Christmas Disney magic were met! Mainstreet looked amazing and on the first entry to the park there was a huge Christmas tree behind the bandstand which really set the theme for the rest of the park. I particularly loved the Mickey Mouse-themed wreaths which hung in rows across the buildings on Mainstreet.
Haydn and I spent some time enjoying the atmosphere of the park before going on a couple of rides. Since we had another chance to return tomorrow we were able to go around at a more relaxed pace. I really liked being about to wander around inside the Sleeping Beauty Castle as this was something I don't think I'd done before. The balcony behind that castle also proved a great spot to take some photos! Despite the cloudy skies, we were really lucky to get no rain during our time in the parks, although it was freezing! We both had thermals on under our already thick winter clothes.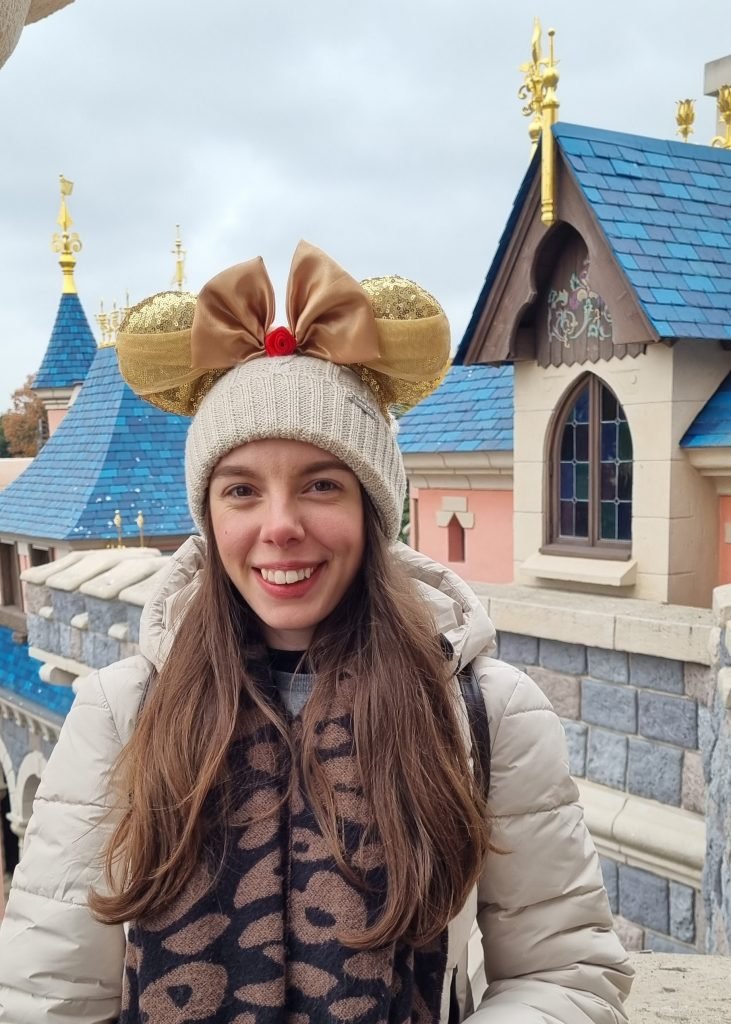 After a few rides, including Big Thunder Mountain and Star Wars Hyperspace Mountain which we both loved, Haydn and I found a spot near the front of the castle ready to watch one of the Parades. We didn't really plan an agenda for the day just did things as and when so it was fun to find ourselves watching the parade as the sun was setting for the day. The floats looked great and the music was uplifting, just as you'd expect from a Disneyland experience. After the parade was ending we joined in and followed everyone else up Mainstreet.
When the parade was done we made, what can only be described as, a fatal Disneyland error. It was about 5pm now and I was hungry. Since we had such a positive experience with the fast food style dining in the other park we decided to do the same for dinner and went over to Cafe Hyperion which is inside a big Videopolis which has loads of seating. The time and location we chose were clearly a big mistake as we then joined a queue for the "fast-food" that wasn't moving. We stood in line for over an hour to be served a chicken burger and fries that were dry and slightly stale and not particularly tasty. I had become hangry in the time we were waiting but Haydn did a great job trying to keep me positive which I really appreciated.
After a disappointing dinner, we decided to cheer ourselves up with some Disney treats so headed to the bakery on Mainstreet where we got a chocolate-filled beignet (basically a bread-like doughnut) and some sprinkle cookies. Both were so tasty and made up for a lot of the damage done by dinner.
We went back towards the castle to find a spot ready to watch the fireworks display. This is my favourite part of Disney and is something I have really vivid and fond memories of from our trip to the Disneyworld Magic Kingdom part back in 2018. We got a decent place to stand and enjoyed the display. Admittedly, Haydn and I both came away and commented on the fact that there actually didn't seem to be that many fireworks going off, the soundtrack didn't feature many classic Disney songs and the projections on the castle was mainly Frozen and a little bit of Toy Story which was disappointing. I think this is a combination of it being a smaller castle anywhere making the projections less impressive and since we went at Christmas time the show was different. I'd have much preferred the standard show that felt so heartwarming and nostalgic.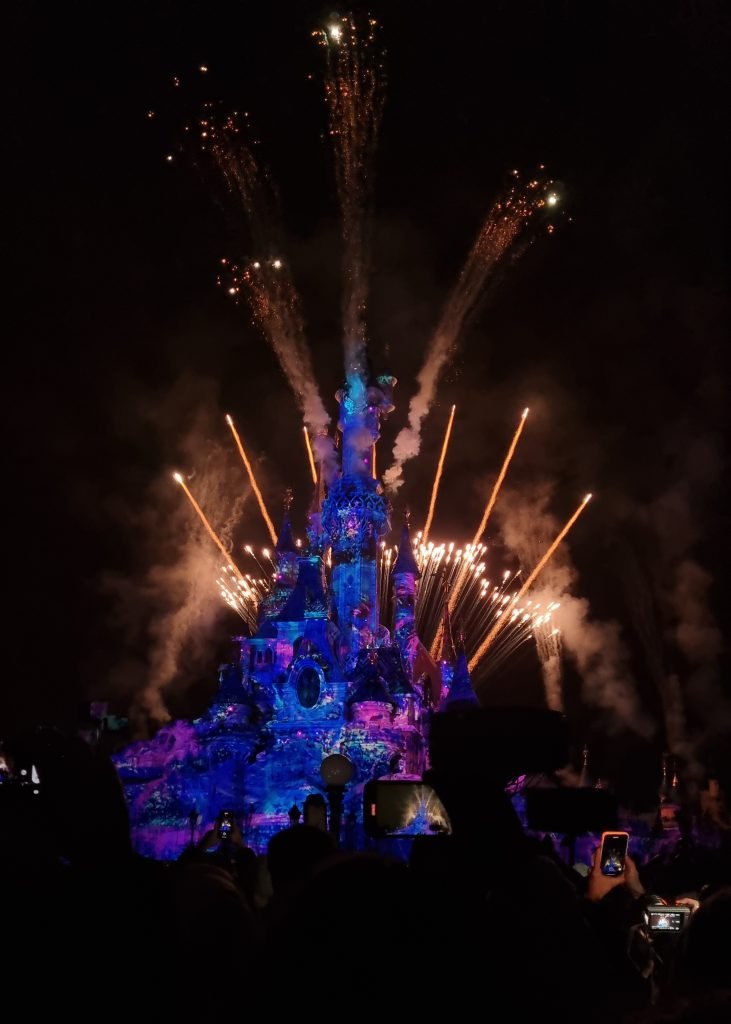 I did however, LOVE the use of drones at the beginning of the display. This was completely unexpected and is the first time I've ever seen drones used for displays like this!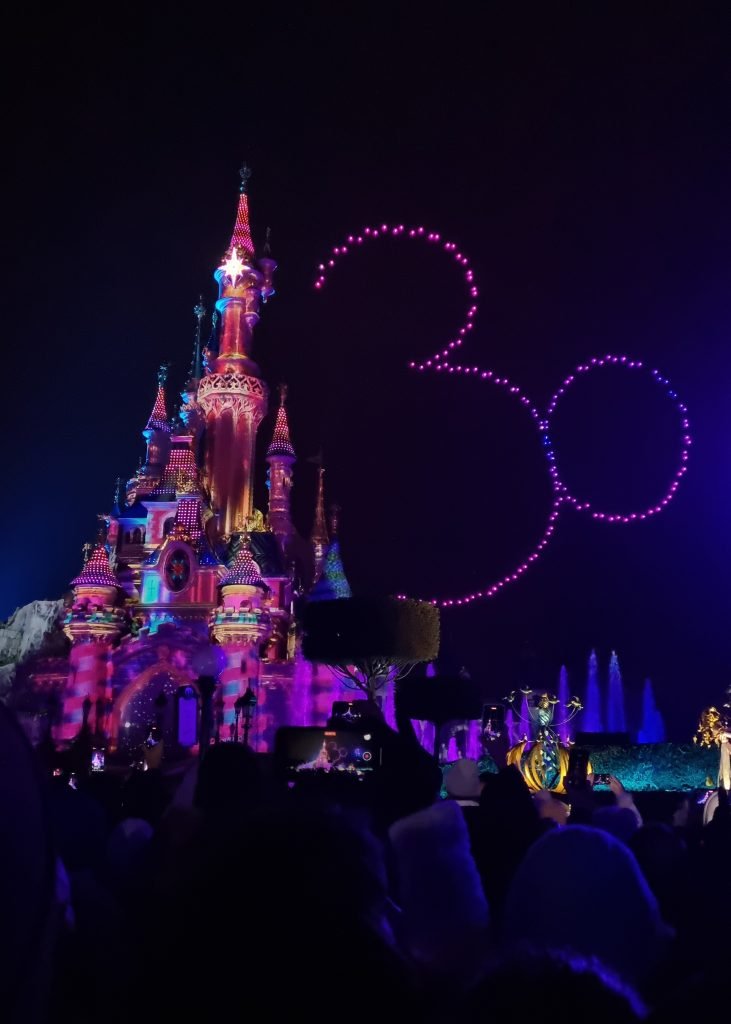 After the display had ended Haydn and I held back a little bit, we didn't want to get caught in the rush trying to leave the park so instead hung back and admired the castle for a few minutes, it's amazing the difference of the crowd if you just wait 10 minutes.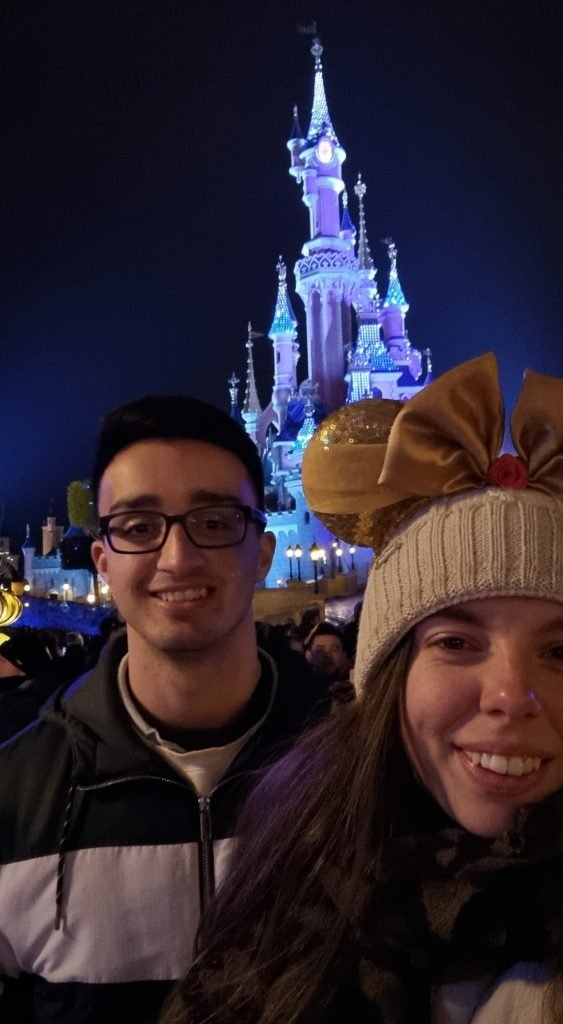 When we did decide to start making our way out of the park I had a mission. Buy a Sulley teddy! This might seem a bit random and I'm not one to buy many teddy bears but, this one was special because when we first planned the trip in 2020/19 I said I wanted one to sit on my desk chair. It felt only right to give in and buy one. Honestly, no regrets, it does in fact look cute sat on my desk chair.
After exiting the park we looked around a couple more shops and picked up a Mickey Mouse bauble for our Christmas tree. I thought it was a nice idea to get a decoration for the tree from any December holidays we go on, in 2021 we picked up one from Iceland. After that, we walked back to our hotel, got into bed and to make my heart even happier Harry Potter was on the TV. Great end to the day!
Day 3 – Friday 9th December
Another relatively early start to enable us to get into the Disneyland® Park for opening on our second (and final day). As we had already ticked off the main rides we were looking to do yesterday it was fine to take today at a much slower pace. We got to the park just after opening and went on Big Thunder Moutain first as the queue was short and we enjoyed it so much the day before.
There were some other rides we still wanted to go on which we did throughout the full course of the day including Buzz Lightyear Laser Blast, Thunder Mesa Riverboat Landing and Peter Pan's Flight. I kept up the tradition of beating Haydn by a staggering number of points on the Buzz ride, and he pretended not to be a bitter by giving up before the end of the ride so that he could claim he wasn't really trying anyways.
As we had lots of free time to just enjoy the park we used the opportunity to take plenty of photos together in front of the castle from a few different angles.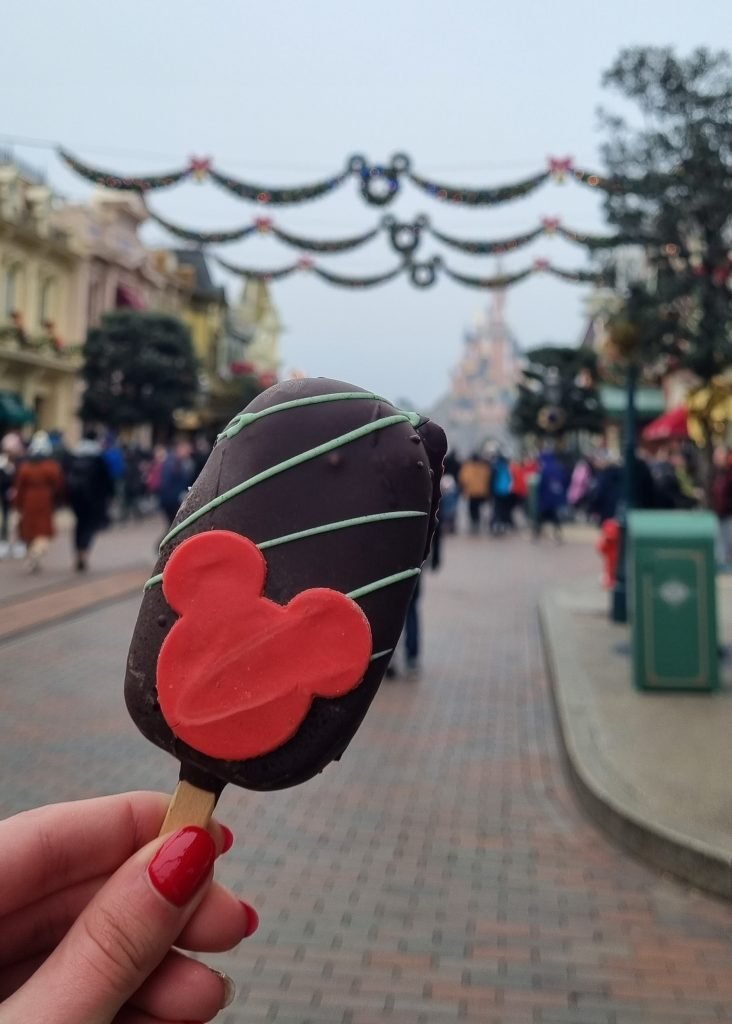 Another thing I was keen to do was try more Disney snacks! Over the two days we were in the park we spent more than £100 on food and the majority of that was snacks, but I have no shame. We picked up a Minnie Mouse Cake Pop and a giant Mickey chocolate chip cookie that was filled with hazelnut cream. I taste tested the cake pop first and absolutely loved it! I don't even know where you can buy cake pops in the UK so they always feel a bit like a holiday exclusive treat when I have them.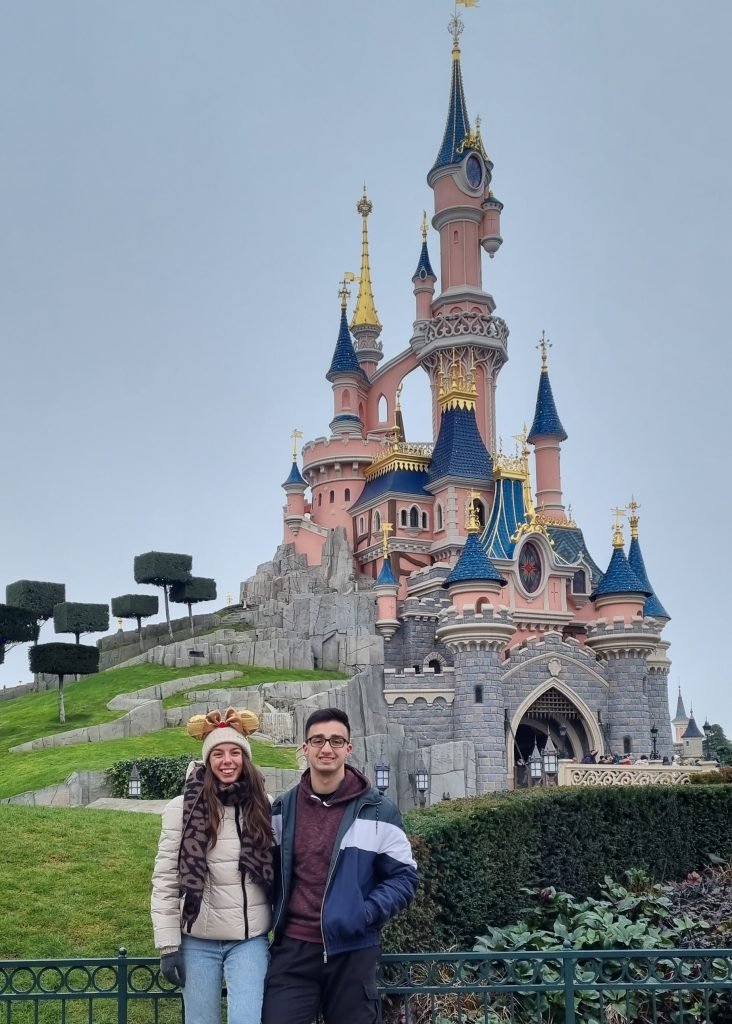 After the failure that was dinner at the park on Thursday we opted to exit the park and have a late lunch/early dinner in the Disney village style area. Went to Annette's Diner for dinner as I disticntly remember going here when my family took me for a birthday trip in about 2007. It was still quite a long queue to get in but really didn't feel like anything in comparison to the other queus we had been in throughout the day. The brugers are expensive but they had a good veggie option which suited me and it was a decent burger, plus the portion size was big which meant I didn't need to have another meal in the park.
After dinner we went back into the park, rode a couple more rides and then decided to chill inside the Videopolis for a while. The last few days had been quite tiring so I think Haydn and I both apprecitated the opportunity to chill for an hour or so. As it got darker we looked around the shops on Mainstreet and then watched part of the firework display. The display just wasn't what I had hoped for so we didn't feel it was worthwhile to watch it again, plus it was freezing and we didn't have as good a view as the day before. We walked back to the hotel and I enjoyed my Mickey Mouse giant cookie in bed!
Day 4 – Saturday 10th December
The previous day Haydn was starting to get quite unwell so we decided to have a lie in on the Saturday even though it was our final day. We wanted to use the day to explore some of Paris. As we were only on ashort trip we only took backpacks which meant it was easy to put everything on our shoulders and explore, however, it did mean we weren't able to go up the Effiel Tower as they don't allow bigger backpacks. When we did make it out of the hotel we got the train into the center of Paris which was straight forward and part of a direct line. I don't love the metro system in Paris as it defintiely feels the most dirty and sketchy that I've ever been on but it was convinent. We got off near the Arc De Triomphe and wanted to walk down the Champs-Élysées as I hadn't done this on my previous visit.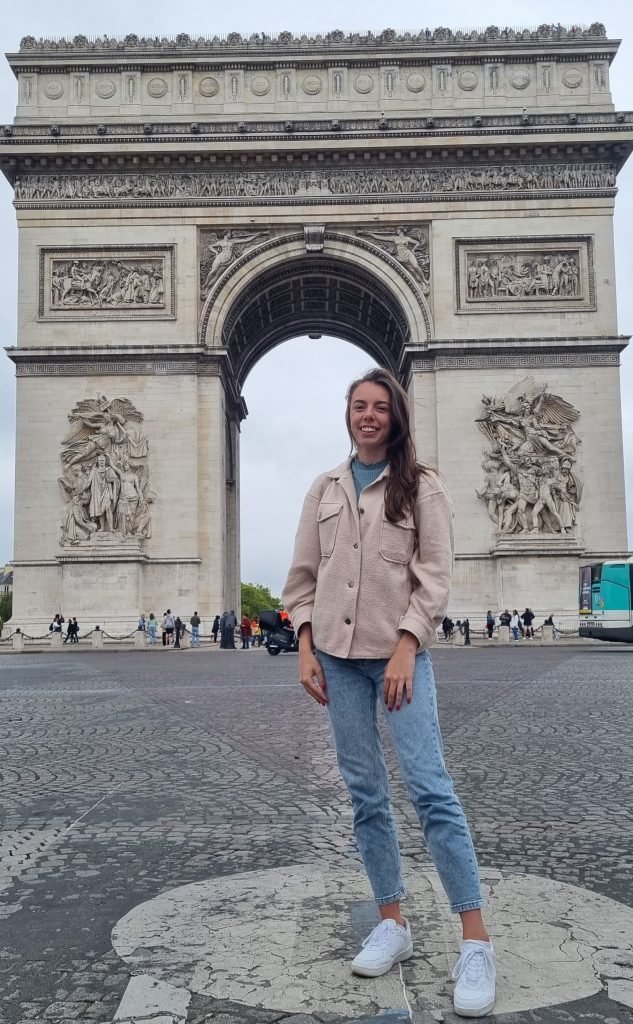 After we'd browsed the shops along the Champs-Élysées (and Haydn got a Mcflurry from McDonalds) we walked towards the Effiel Tower and took in the sights. The weather was lovely, blue skies and relavtively warm to say it was nearly mid-Decemner.
Something I was keen to do was try the TikTok famous hot chocolate from Carette's. This hot chocolate looks like pure liquid chocolate in the videos and theres the added gimick that you are able to mix in your own cream. Although this was expensive (we sent €30 on two hot chocolates and a Éclair) it really did taste delicious.
Cafe culture is probably one of my favourite things about Paris! Carette's is a great example of this as it feels quite traditional on the inside but this really just adds to the rustic feel of the place.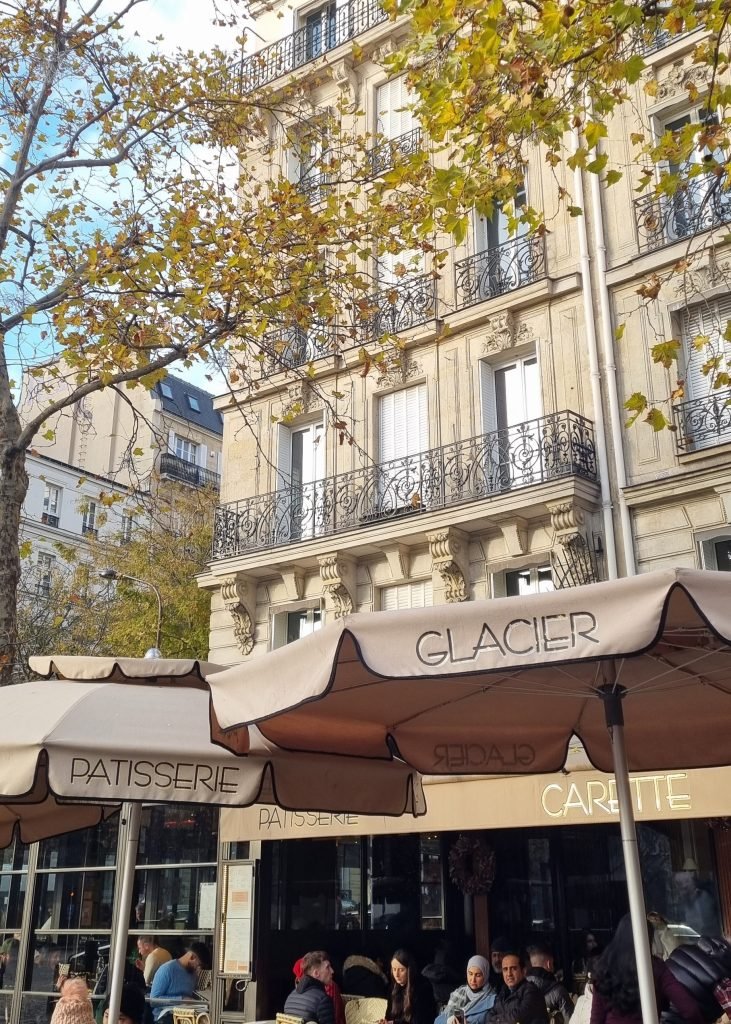 After we'd indulged in a sweet treat we wandered the streets some more and were able to find some beautiful glimpses of the Effiel Tower as the sun was setting. I just loved to imagine what it would be like to live in a little Parisian apartment with a view of the Effiel Tower and enjoy sunsets throughout the year.
We continued to explore the city whilst the sun was setting, the beautiful lighting just seemed to go on and on. Walked past the Louve and saw the Christmas markets before getting an uber to the airport. Overall my second visit to Paris was a good one and undid a lot of the negative misconceptions I had after my trip in September.