Hey Guys,
I hope you're doing well? It's been ages since I've done a proper blog post but this one is super exciting – at least I think so. If you follow me on Instagram you might have seen that last week Haydn and I visited the Chezch Republic, specifically Prague. This will be a long post so get cosy!
Day 1:
Our flight left Manchester airport at 7:30am which was great but it meant leaving for the airport at 3am. Yeah, we were pretty exhausted by the end of the day. We arrived around 10:30am (Chezch time which is an hour ahead) and were able to take some pictures in the cockpit which was cool. Unfortunately, after landing we had no idea how to sort out an Uber to the apartment – I mean this was Haydn's job to sort seeing as I don't use Uber so blame him. Jokes… Obviously, we sorted it (I never doubted him) and made it to our apartment. It actually turned out perfect as our room was ready meaning we could sort our bag and head out right away.
We explored the area around us which consisted of a massive shopping complex that had a fricking Sophora! Turns out we'd bagged ourselves a hotel in a bloody good location as it was only a short walk from everything touristy, there were restaurants and fast food nearby that we loved and it was also a massive tram station meaning we could get near enough anywhere in Prague.
We decided to do a big loop around the river before going to dinner. From our apartment, we headed for the right side of River Vltava where we were able to see the Dancing Building and our first look at Prague Castle and Charles Bridge. It was only around 5pm but we were exhausted! To play it safe we had TGI Fridays for dinner. I'm not exaggerating when I say we were tucked up in bed by 8pm ready to sleep.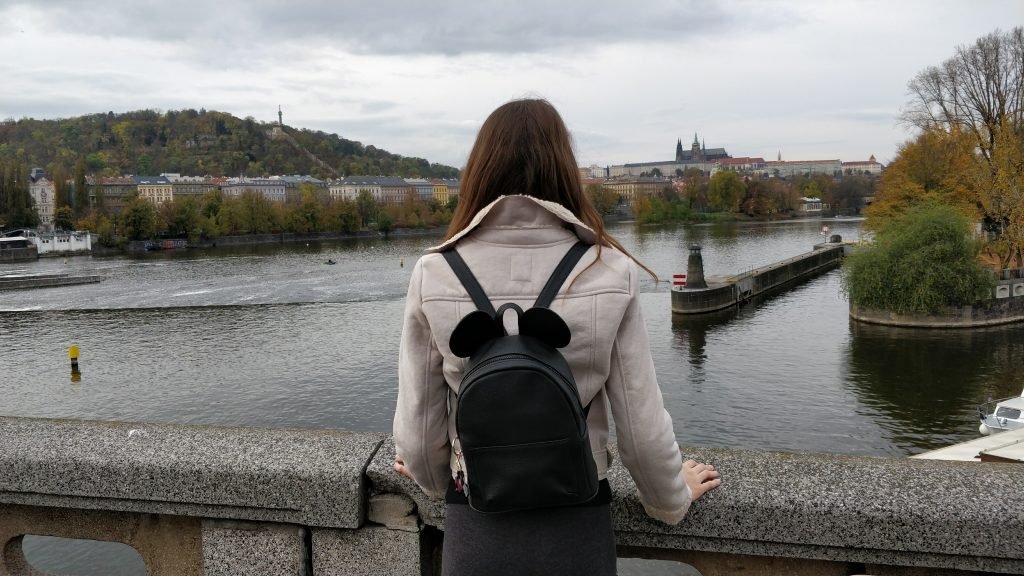 Day 2:
Making a slow start to the day we strolled out at about 11am. We'd made plans to explore the landmarks on the right side of the Vltava River. These included: Charles Bridge, Old Town Square and the Astronomical Clock.
Charles Bridge was nice; the architecture is insane and really well preserved. The style is often described as Gothic with its dark stone and black statue work. Prague is known for its stunning architecture and gorgeous buildings as the city was mostly undamaged during the Second World War. The Old Town Square was the second prettiest part of the day, the colourful buildings and the cobblestone streets and ancient yet well maintained streets were so pretty. The Astronomical Clock was under a lot of construction but it was still weirdly wonderful – I'm not quite sure what it's used for.
For me, the best part of the day was walking along Čechův Most Bridge and up to Letna Park. We both agreed that this bridge actually has a nicer view than Charles Bridge and whilst there isn't any history its also a lot less crowded. The peaceful environment follows all the way through Letna Park so it's a pretty enjoyable spot seeing as it's fairly secluded and was quiet when we went. We sat for a while and appreciated the views over Prague from Letna Park and I loved it.
For dinner we went to Da Tarquinio(which is rated number 1 on trip advisor). It had a cute cafe/diner vibe, the food was great and super cheap which was nice. The restaurant was tucked in an amazing shopping district that had loads of high-end shops. Even a Hamleys that had a slide and carousel in the middle! Haydn and I wandered the streets until we were tired at which point we headed home for bedtime.
Day 3:
Seeing as we explored the right side of the River the day before, on Saturday we decided to stay on the left side and explore the sights there.
Haydn and I started with Petřín Hill and the lookout tower. The walk up was steep and pretty hard work but we were able to see some breathtaking views over the city along the way. We paid to go up Petřín lookout tower (roughly £8) but neither of us enjoyed it that much as although the views were breathtaking, it was too crowded at the top to actually appreciate the surroundings. (I think the views from Letna Park and Prague Castle are better) Heading back down the hill was fun because we got to explore some streets we hadn't yet seen. They were very dated streets with winding roads and narrow streets which I thought were classic.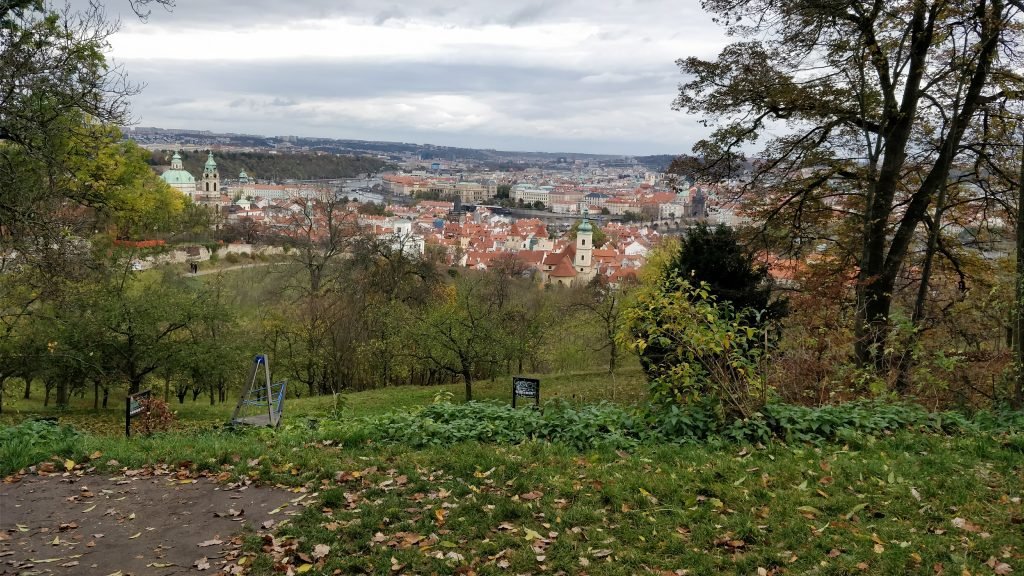 We stopped to try Trdelnik (Prague street food) which is grilled, rolled dough topped with sugar or almonds. Haydn tried a sugar-coated roll with vanilla ice cream in the middle and I had a sugar-coated roll with Nutella. They tasted okay but neither of us liked the strong cinnamon flavour so we didn't finish them. Wondering down the cobblestone street I found a cute gift shop where I picked up a little Chezch building style candle holder which I'm excited to test out.
To finish off the day we located the narrowest street in Prague which is controls people using traffic lights! We got pretty lost on the way back to the hotel – I mean we ended up on the wrong side of the river and up the wrong end! But we made it back eventually.
Day 4:
Seeing as it was our last full day we wanted to tick off all the things we had left to do. There are loads of little landmarks to see in Prague but we stuck to the ones that most interested us.
We headed into the old town to visit the Lego museum as we were both children. It was pretty good, although most of it was smaller sets and models with nothing particularly spectacular. I wanted to see Prague Castle and John Lennon Wall so we did that too. I'll be honest we didn't go all the way up to the Castle as we didn't want to pay. It started to rain on our way up the Castle steps so we took shelter on a little balcony cafe. The view from this balcony might possibly be my favourite of the whole trip, they were incredible. We sat outside under a shelter whilst it rained and a little cat sat on my lap and had a snooze.
To finish the day's exploration we went on a shopping trip, I was even able to pick up some makeup from Sephora. We decided to visit the Hard Cafe for dinner and seeing at it was freezing we ventured onto the trams. This was a cool experience as we hadn't used the trams at all yet. It was actually pretty easy and even though we did buy a ticket there was no guard so we didn't use it. Hard Rock cafe was so cool as it was all decorated for Halloween and the atmosphere was amazing. When we got back to the apartment we were quite hyper so Haydn and I went to the underground bowling alley near our apartment. Since there were only two of us we were able to get 3 games in which made it pretty cheap overall as we paid for an hour. It was defiantly bedtime at this point so we curled up to enjoy our last night in Prague.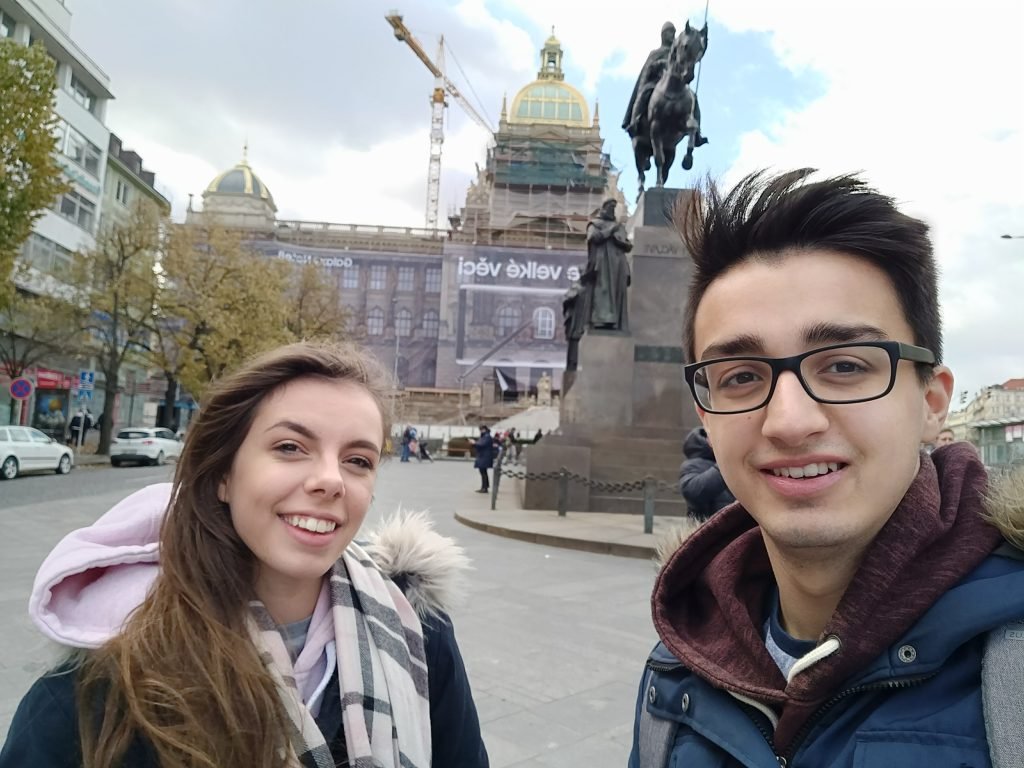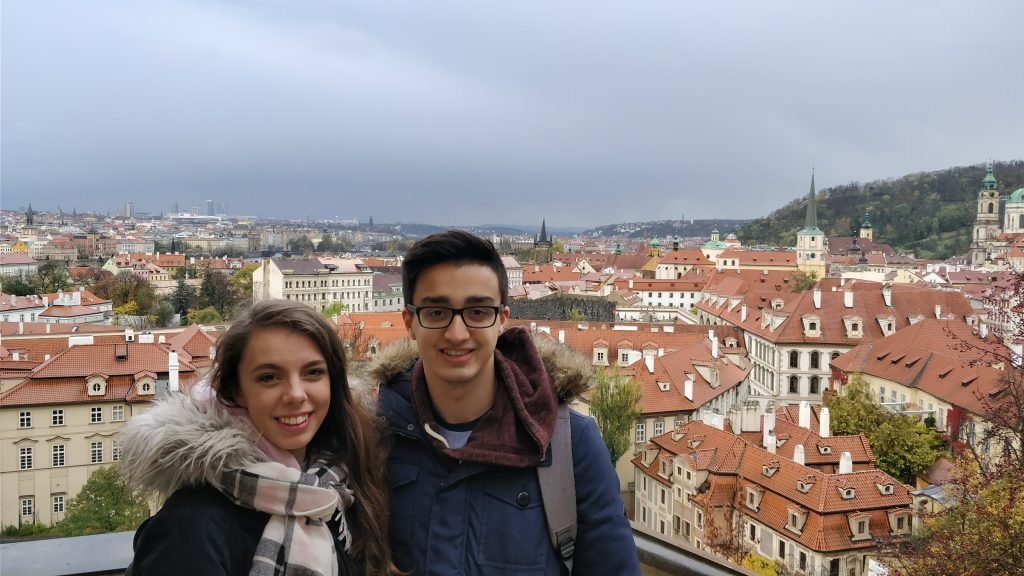 Day 5:
We didn't need to leave the hotel until 4:30pm giving us loads of time to wonder Prague some more. To be honest we'd basically done everything already so we didn't have a lot to do.
I wanted to do a river cruise and the Devils Channel Cruise took my fancy as you got to go on a much smaller boat that took us down the smaller side rivers that kinda resembled Venice (from what I've seen on Tv that is). The cruise was about an hour and we actually really enjoyed it. The captain/tour guide was great! He was way more informative than I thought he would be.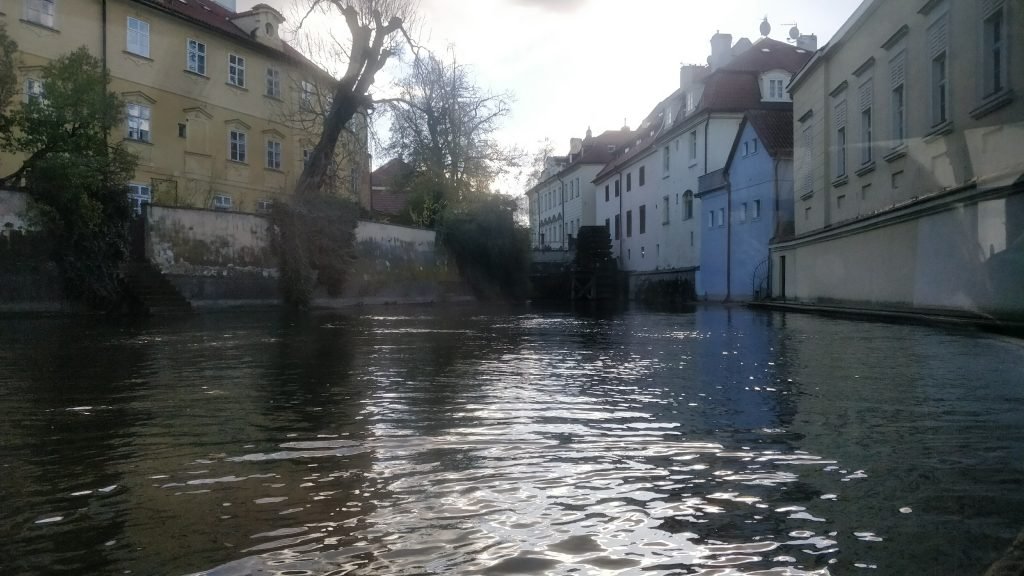 After the boat tour we walked back into Old Town Square so we could get another look at the Astronomical Clock. As well as wander around the surrounding streets to finish off with an extra bit of souvenir buying.
Heading to the airport was bittersweet. Although I was sad that our first holiday (and visit) was nearly at an end we had well and truly explored Prague so in a sense I was ready to leave.