Hey Guys,
I hope you're doing well? Haydn and I have just gotten back from our summer holiday in Florida! Of course after an incredible vacation like this one I had to do a blog post to document the incredible experiences we had. This was a pretty action-packed trip, we squeezed in a lot during our 2 week stay – we're particularly grateful for Haydn's friend Andy, who initially invited us over. Thanks to his generosity we were able to travel all around the state, staying in various hotels and using his car.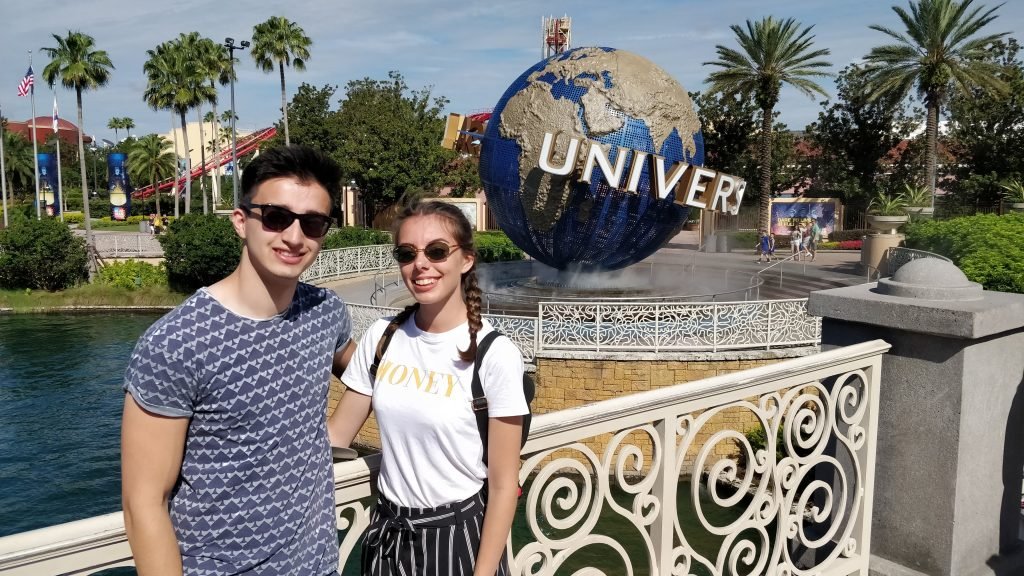 For the first three days, we stayed in Orlando. It was during these days that went around the Universal parks – we did Universal Studios and Island of Adventure. I enjoyed both but definitely preferred Island of Adventure because it had more Harry Potter areas. One thing I didn't expect was how many of the rides were simulators – I'm more into the traditional track coasters but it was still a fun three days in the park.
After Orlando the next place we decided to adventure out to was Miami. I think this is probably one of my favourite places I've ever visited! It just seemed to suit me in a lot of ways, which probably sounds weird but maybe you know what I mean…
On day one we explored Ocean Drive and I did a little bit of shopping and took a view photos of South Beach. This was where me and Haydn picked up; a. the most 'touristy' tops we could find and b. ones that matched, he wasn't as impressed as I was with our new 'twinning' look. On day two we went to the local Walmart – which is honestly an experience in itself – and headed for the beach. First off we went to a beach further south; but it smelt weird and the seaweed was blocking the water, so we went back over to South Beach which we knew would be a safer bet. The following morning we lazed around, trying to feel as rested as we knew the long drive down to Key West lay ahead of us.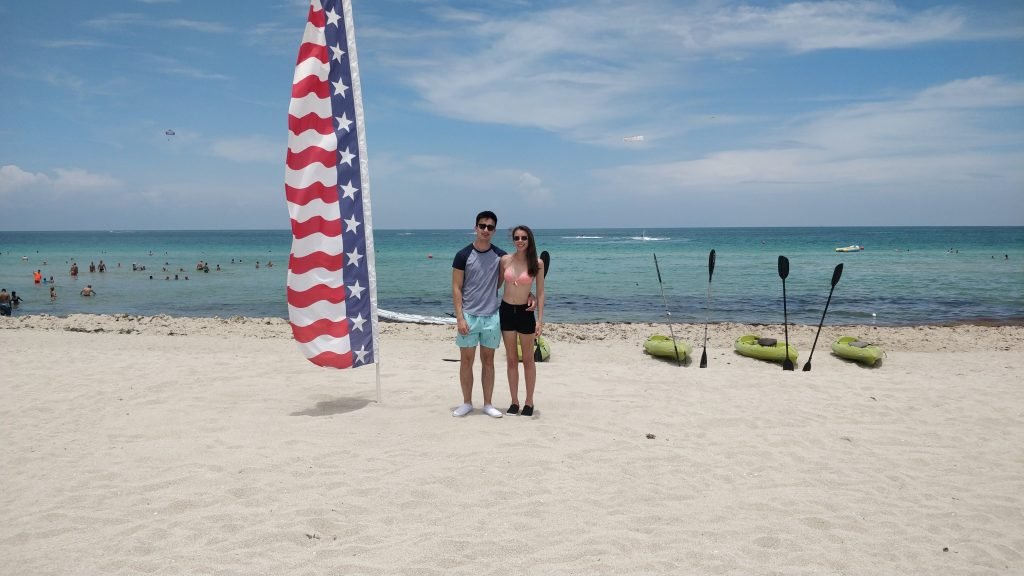 The Florida Keys were gorgeous to drive down, or at least what I saw between naps was… It'd been a tiring first few days. On the drive down we stopped at The Turtle Hospital and joined one of their educational tours. Turtles are one of my favourite animals so of course I was destined to love this – which I thoroughly did. The tour allowed us to get up close to the turtles in care, understand more about them as a species and learn about their individual conditions which have brought them in for care.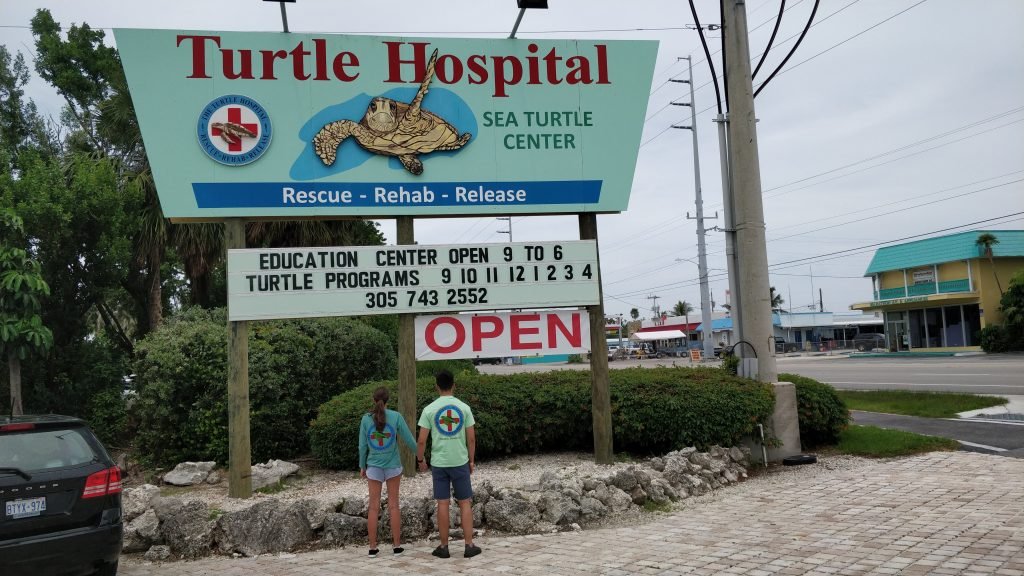 In the evening Haydn and I went to Mallory Square to watch the sunset, we sat together on Sunset Pier and even though the sunset wasn't anything spectacular the time together was super romantic.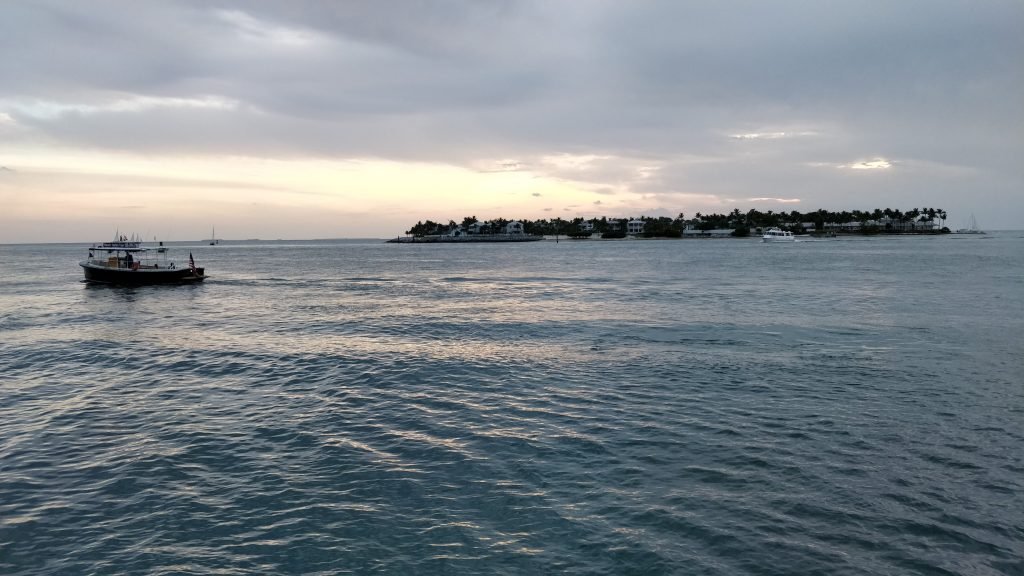 The following morning I wanted to head to the Southernmost Point to take the most tourist photo possible, everyone visiting Key West has this photo – we literally had to queue to take the picture.
Before leaving the Keys, our friend took us to Sombrero Beach in Marathon, here is a scenic pictures and captured some footage with Haydn's drone.
Continuing the drive north, back towards Central Florida we broke up the drive by stopping at Robbies, which is like an activity centre; there's snorkelling, boat rentals, a restaurant and the thing we specifically went for… Tarpon feeding. When we arrived we paid for our bucket of frozen fish to feed with, I didn't really know what to expect but I can tell you it was pretty fun. There a genuinely hundreds of Tarpons, what are Tarpons you ask – here's a brief description:
Tarpons are large air-breathing fish, they grow to about 4–8 ft long and weigh 60–280 lbs, characterised for their broad mouths with prominent lower jaws that jut out farther than the rest of the face
Basically, they are huge fish that kinda look like dinosaurs…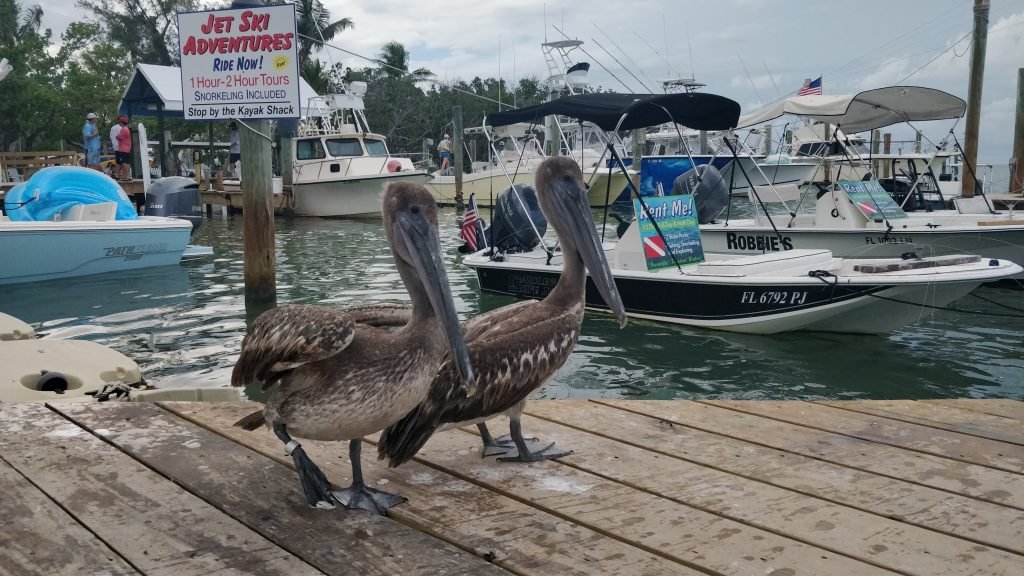 Once we were out of the Keys we stayed overnight in Fort Lauderdale before continuing our drive back up through Florida towards our destination in Gainsville. The road trip back up included a stop at Millenium Mall in Orlando, this was a highlight for me as I love to shop; I got things from Sephora (I'll have an American makeup haul going up super soon), Bath and Bodyworks and Victoria Secret's Pink. I didn't take any of my own pictures of the mall but I've inserted one from Google below so you can get a feel for it. I need to add that one of the best things about this Mall is that it had a Cheesecake Factory attached, Haydn and I developed a real love for that cheesecake during our visit, now I'm home I think I have genuine withdrawal symptoms.
We had a couple of days of rest in Gainsville before hitting the road again and driving over to Tampa. This drive was the WORST. The drive from where we were staying to Busch Gardens should have taken about 2/2.5 hours but it took 5… 5 hours, nearly 3 of which were spent in standstill traffic on the highway! People were getting out of their cars and talking to other drivers out of boredom after about an hour of not moving. Eventually, we made it to the theme park, eager to finally get on some rides we didn't really take any pictures of. Despite that, I think this was probably my favourite park we visited in terms of rides, as I've said I much prefer traditional track coasters and this had plenty! The park was open until 10 and queues were pretty short so we were able to get through it all in the time we had and do a few rides twice.
The following morning was THE morning I'd been waiting for. Of course, I'd enjoyed every day up until this one but on the second Friday of the trip, we were off to DISNEY WORLD! How could I not be a little kid on Christmas morning excited for Disney? We decided not to get to the park crazy early because we knew we'd be there pretty late, the park was open till midnight. Side story: for our 2 years anniversary I designed matching tops for Haydn and I with us photoshopped as astronauts on the front and 'H & C since 2016' on the back. For the day at Disney I wanted us to wear these matching T-shirts as even though they had nothing to do with Disney, I thought with our backs to the castle and the little 'H & C' writing on the back it'd make an adorable photo. Which it did. Haydn isn't a fan of the matching couple looks so almost immediately after taking the photo he changed and then too embarrassed to be wearing the top on my own, I changed too. At least the pictures are super cute though…
We got pretty much everything we wanted done in one day, but in future, I think I'd want to spend more time in the park so that we're able to travel at a slower pace. Honestly, the best part of the entire day was the Happily Ever After fireworks display in the evening, I cried!
We didn't make it back to our hotel until about 2 am, we were exhausted! Luckily the hotel receptionist gave us a late check out which we took full advantage of. After a noticeably slow start to the day, we were driving (again) to Kennedy Space Center. I like to think of this as Haydn's equivalent to Disney for me. Even I have to admit, it was pretty cool. I didn't expect there to be a real shuttle, Atlantis, that had actually been to space (multiple times) on display. That was an awesome surprise.
For the last two days in Florida we took the opportunity to explore a spring, we chose the Ichetucknee Springs State Park. I loved this experience and wished we had a few more days to do more state parks. At Ichetucknee we went tubing down the river; I can't describe how peaceful and just genuinely unforgettable this was. Haydn and I rented a double ring so we could sit together along the river which was kinda romantic. The sights around us were literally a wild river, with real habitats and animals; turtles, exotic dragonflies and 'rare snakes' apparently. After the river tubing, we went to the second part of the state park known as Blue Hole. Even though the water was freezing the crystal clear water was irresistible so we had to venture in.
In short, our summer vacation was incredible! I loved every day, we explored so many places across Florida, and I've got so many memories that I hope I can hold onto forever. We're so grateful for Andy's generosity whilst we were visiting; we couldn't have done the trip without him.