I recently turned 23 and my lovely boyfriend, Haydn, went above and beyond to plan an incredible surprise weekend away! He even throw red herrings at me, which meant that I believed we were off for a Staycation in Scotland… Nothing wrong with Scotland, but it's February and I was really craving some sunshine. The morning of our trip arrived and it was finally confirmed that we were driving to Manchester Airport – destination, still unknown.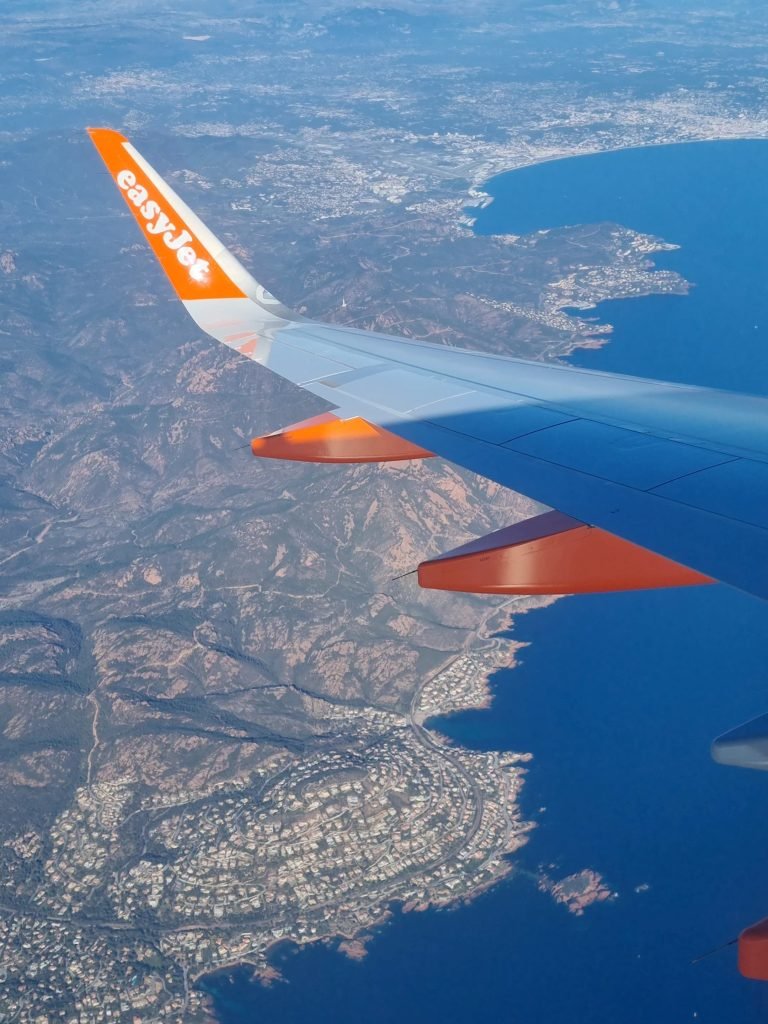 Day 1 – Thursday 2nd February
After I scanned my boarding pass to get through security and into the rest of the airport, I went straight to a departures board and tried to guess where I was going. The boarding pass had been cropped so only the barcode was given to me and I was given no further clues on where we were going. Looking at the board and the times I settled on Istanbul, there wasn't a strong reason for this it was just my gut feeling but alas, I was wrong! Haydn cleverly steered me to the gate before I'd even realised that was where we were going. Once at the gate I could see we were going to Nice (embarrassingly at that moment I couldn't remember what country this was… It's France). Needless to say, I was excited because I knew it'd be hotter than the UK and I'd probably see some sun. But the journey wasn't over yet…
Once we landed, Haydn quickly walked me from the centre of Nice (which we got to by tram) and to the train station. I was so excitable it was hard not to act calm. Haydn went to a ticket machine and once the tickets had been printed without me seeing he passed me one and told me to see If I could work out where we were going… And FINALLY, I knew I was spending my birthday weekend in MONACO! I'm an F1 fan so this country had a lot of pull, but above that, it's perceived as a millionaire's playground and that just sounds like a cool place to explore.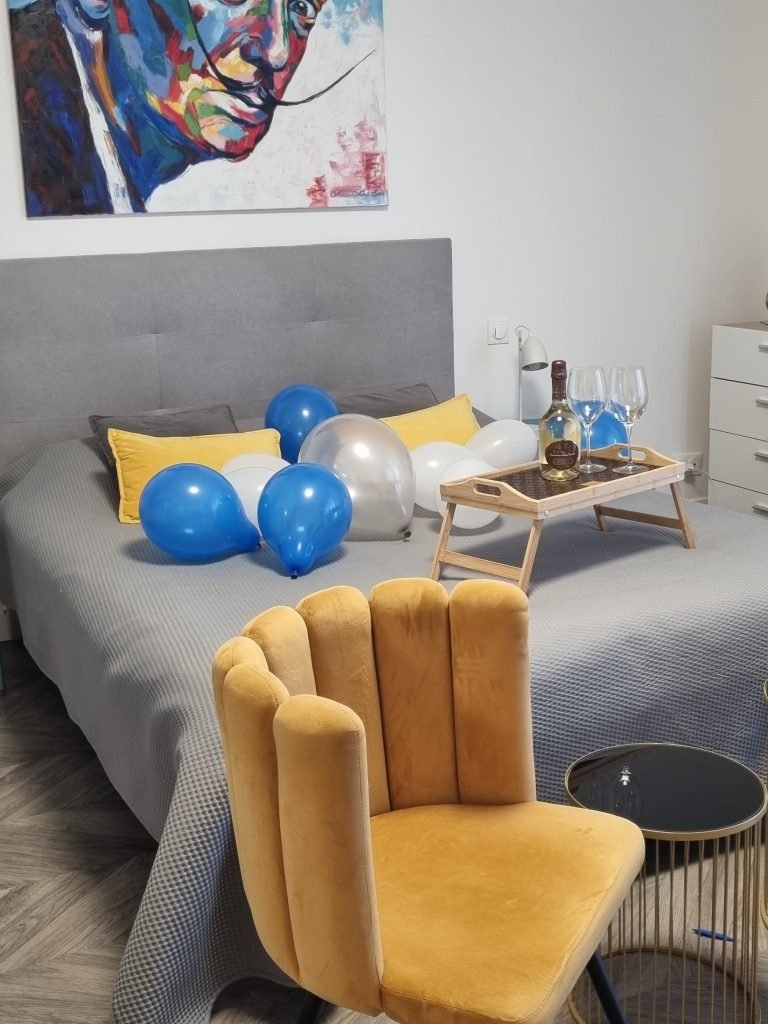 Once we arrived in Monaco it still didn't feel real, I'm still so impressed by all the effort Haydn went to in order to make this a reality. Shoutout to this man because he genuinely is making my dreams come true and that feels really special. Haydn guided us to the Airbnb we were staying in which had a small balcony with a sea view and the host had put out balloons and a bottle of prosecco for my birthday. After dropping our bags and freshening up we headed out to start exploring Monte Carlo.
The sun was setting but that didn't stop us from getting a good look around. We started by going to Fairmont Hairpin which, for the F1 fans, is so cool. The Monaco GP is a street circuit that is completely accessible to the public when it's not being used for the race. This means that lots of F1 fans go to Monaco in order to walk or drive the iconic track. It was an opportunity I was excited about, you can see remains of the track markings all year round in the form of red and white curbs. The corner at Fairmont is a stable section of the track for this race so I thoroughly enjoyed getting to see it.
We then continued to walk towards the port and were able to take in some of the fantastic boats and yachts that are so prevalent in Monaco. We saw the Monaco Yacht Club and picked out which yacht we would choose as if we were part of the ultra-rich community that so obviously lived in the country. In fact, 1 in 3 people in Monaco is said to be Monaco… and it shows! We had dinner by the port and were happy that the food prices weren't quite as extravagant as we expected. This is likely because we happened to choose a cheaper spot and were visiting out of season.
Day 2 – Friday 3rd February
Potentially my favourite day of the trip was Friday. This was our full day of exploring Monaco and it started absolutely beautifully with a gorgeous sunrise over the ocean that we could witness from our balcony. As we'd picked up some breakfast foods the night before I was able to have a Pan Au Chocolate whilst getting ready for the day.
The night before we had also put together a loose itinerary for the day which meant we would be able to enjoy a lot of the country in one, albeit busy, day. To start the day we walked to the Japanese Gardens, it's nice that green spaces exist in cities and we enjoy having a little look around – this place would definitely be a better spot in Spring/Summer though. After the gardens, we looped back to the Fairmont Hairpin to take some pictures in the daylight before making our way up to the Prince's Palace of Monaco which was essentially on the opposite side to where we were. In comparison to the spectacle that is Monaco as a whole the Palace feels relatively understated but the views were stunning! There's something about looking at all the yachts and pretending to be rich that I don't think I'd ever tire of… Although I think my tourist gift shop bag and fake Gucci backpack probably gave our status as 'just visiting'.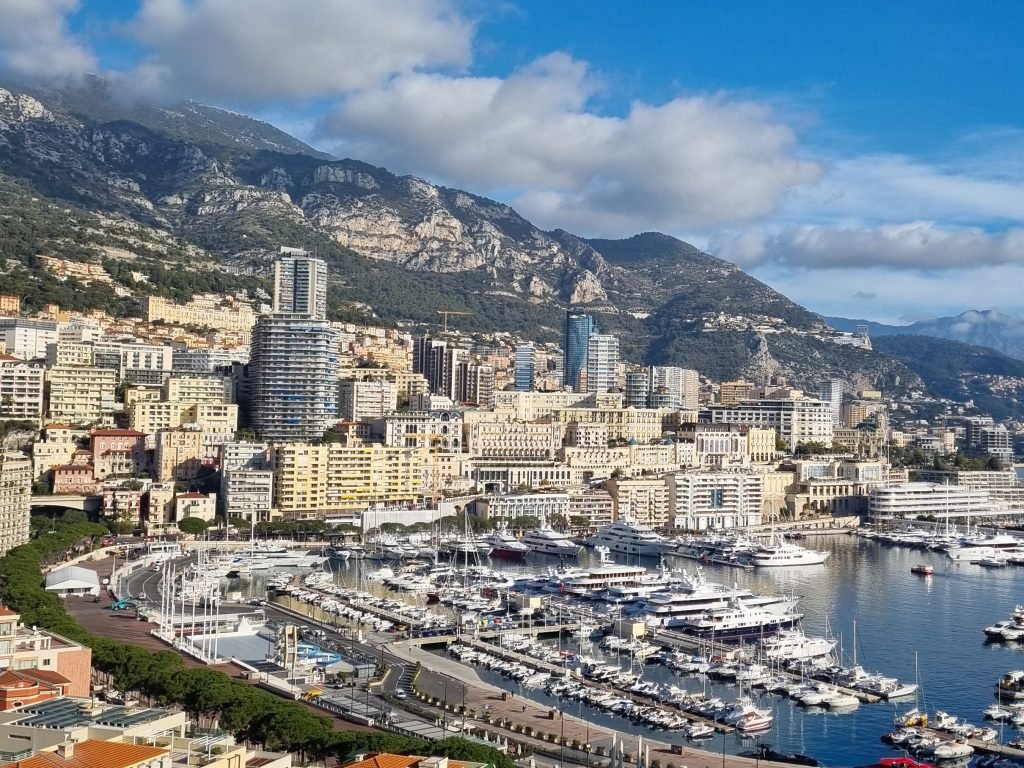 There was only one Starbucks open during our visit as the other, on the Hairpin was under reconstruction… Monaco is definitely small, it's actually the second smallest in the world and is actually 40% smaller than Central Park. We made it to Starbucks, ordered some coffee and Haydn got pancakes. I know there are probably lots of artisan coffee shops all over Monaco but I'm part of the Starbucks cult and wouldn't dream of straying from my queen… Just kidding, I'm not that obsessed, it was just a good option.
Coffee sourced we walked back towards the port. We took a seat in the sunshine and finished our drinks – it felt amazing to have the sun on my face. Although it wasn't exactly hot enough for sunbathing, I was more than comfortable in jeans and a light cardigan. After a gloomy few weeks in the UK, this break was well and truly what I needed.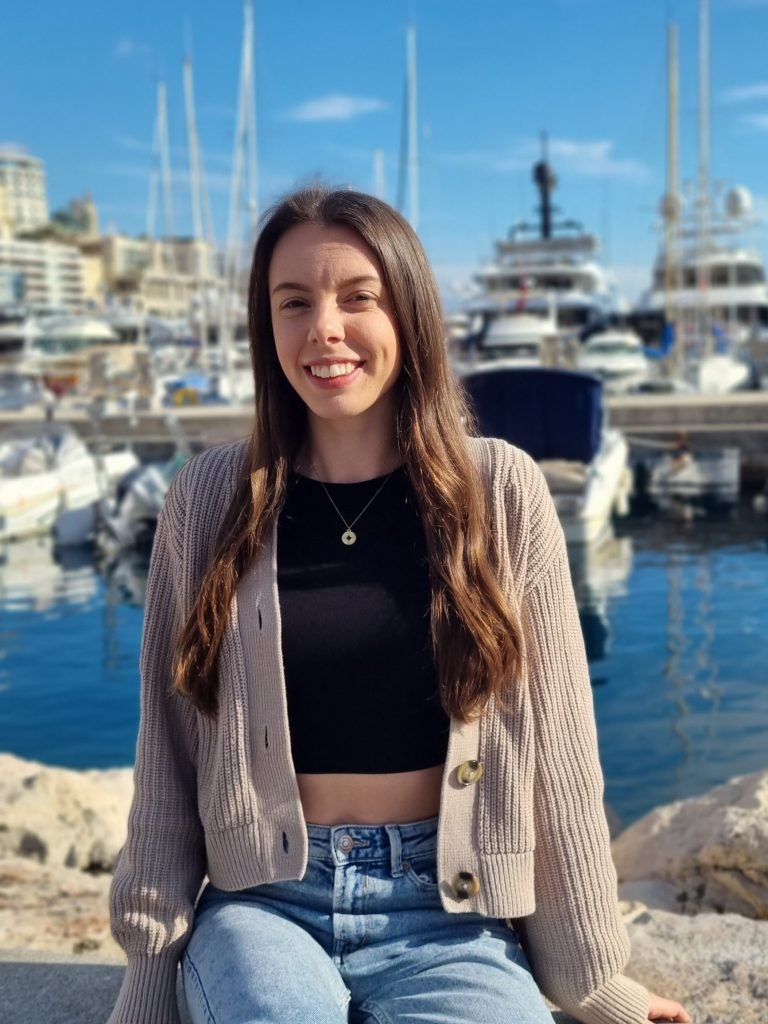 Another key attraction in Monaco is the Prince's car collection, officially called 'La Collection Automobiles de S.A.S. le Prince de Monaco'. This underground vault is home to some of the most valuable and recognizable cars throughout history. The collection includes some F1 cars which were my favourites to see. I'm not massively into cars but I can tell the difference between your average car and one that has a luxury price tag. Side note, if you do like cars, Monaco is a great place to spot some really nice models, in the space of crossing one road we saw a McLaren, a Ferrari and a G Wagon. Haydn definitely enjoyed this aspect of the city a lot.
The sun continued to shine into the afternoon so an obvious choice after the car collection was to walk the entire Monaco GP track. Doing our very own track walk was so cool and it was fun to spot the racing hints along the way, such as statues and red/white curbs. At the start/finish straight you can even see the numbered grid boxes, making it easy to visualise all the drivers lined up and ready to go.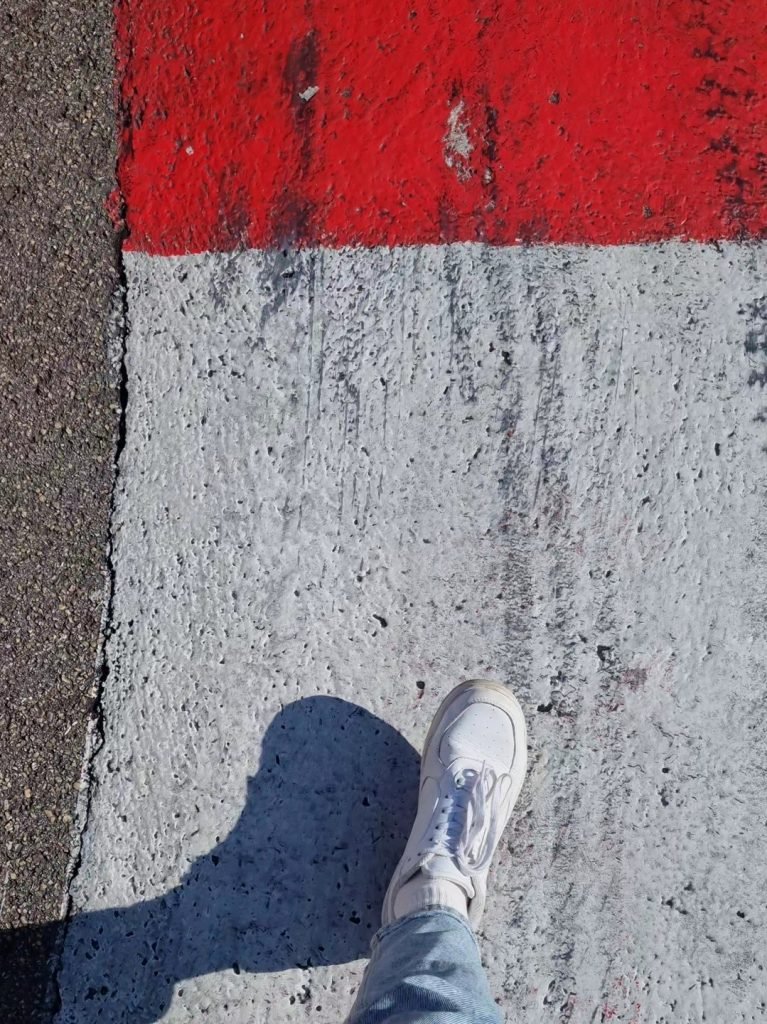 After a lap of the track lunchtime was in full swing. Locals were meeting along the port to eat picnic-style lunches or taking a break to read and listen to music. Inspired by this way of life Haydn and I wanted to join, we went to a local supermarket and picked up some snacks, including a classic Orangina, before kicking back and relaxing as if we were part of this lavish community.
With our full schedule in swing, we set off from the port up to the casino. This casino is a true landmark of Monaco, having been featured in James Bond movies and is known as a great spot to see luxury cars. Casino De Monte Carlo might be iconic but it's interesting to know that Monaco residents aren't actually allowed to enter. To gain access you have to use your passport as ID and it cost €17 to enter but €10 is given back to you as credit to use in the slots. Naturally, I actually felt a bit on edge whilst in the casino, but I'm still glad that I went in as it was cool to see the interior. The high ceilings were extremely well decorated, and it was fun to imagine the lifestyle of the people inside.
The penultimate item on the itinerary for the day was going to the tourist centre to collect a stamped "passport". It's not legal to get your passports stamped, however, you can pick up this little insert free of charge which has the country's stamp as well as the date on it. The tourist centre is only a short walk from the casino so if you're interested it's super easy to go and grab one.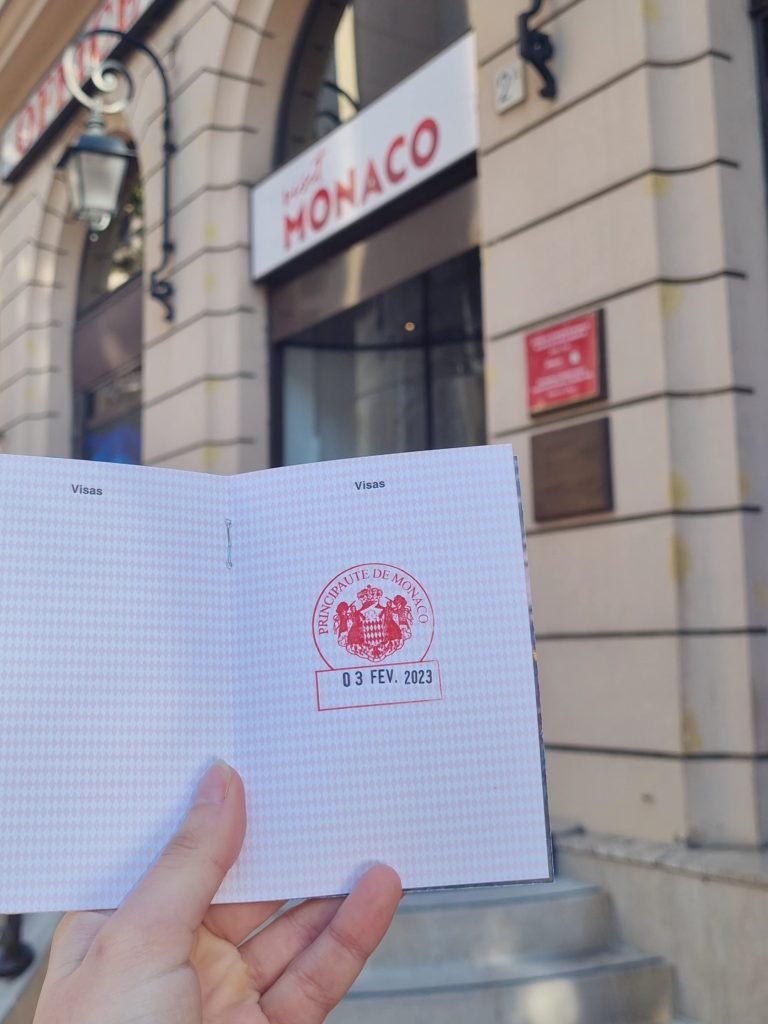 At this point, we wanted to get some much-needed rest so headed back to the Airbnb where I took a much-needed nap. Whilst at the Airbnb we also finished the other snacks we had brought from the local supermarket.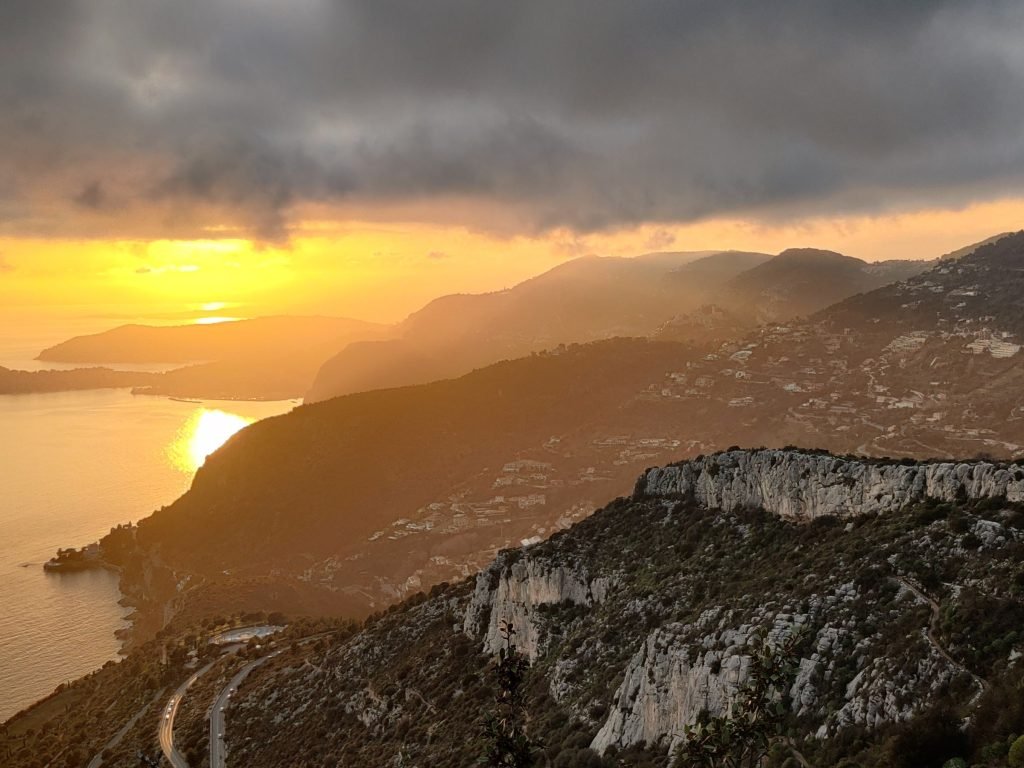 After recuperating from a busy day sunset was approaching which meant it was time for us to get up to Tête de Chien, which is actually over in France. To get up to the lookout point we took an Uber, it's worth knowing that Uber isn't actually allowed to operate in Monaco so you need to cross the border into France. Given Monaco's size, this is relatively easy to do, but just make sure you're in the right area before booking your ride. Our driver dropped us near the top and then we walked the rest of the way until we were 550m above Monaco and the French Riviera. The views were breathtaking and the cloud level was relatively low so it felt as though we were literally at eye level with them. From this viewpoint, it's possible to see all of Monaco, in fact, this spot was featured in a recent video by Charles Leclerc. From this spot, we watched the sunset and the city come to life in the dark, it was magical.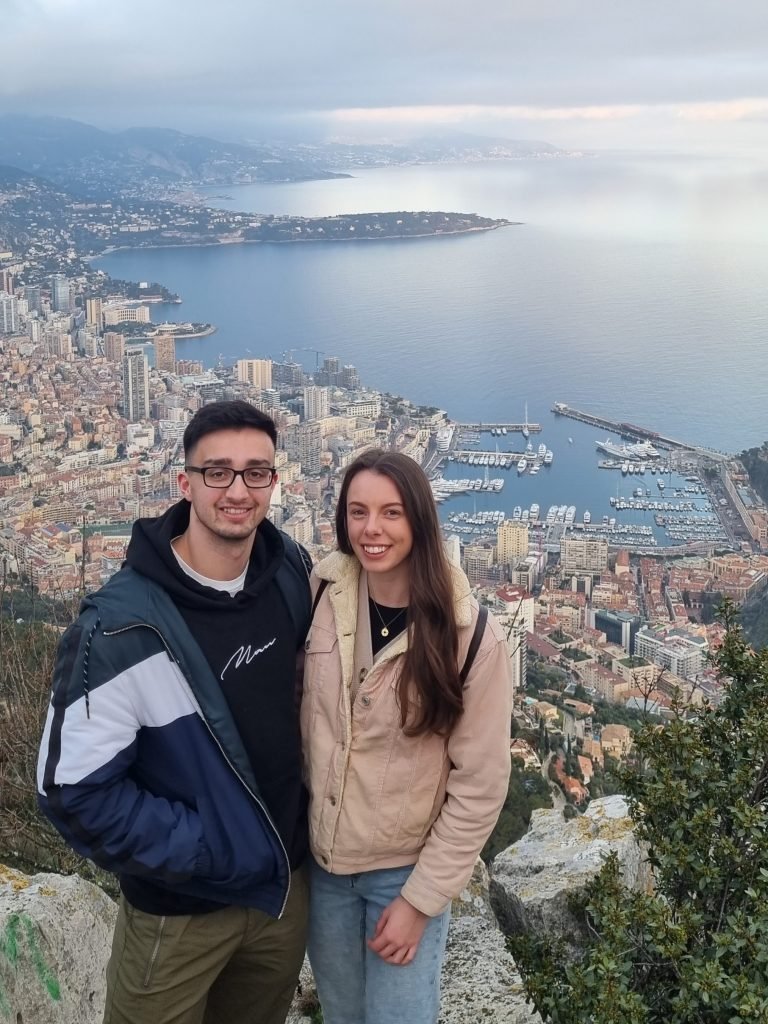 In an effort to be entirely truthful with my blog, I don't want to glamourise the rest of the evening. After the sunset and we were ready to leave we tried to book an Uber back to the Monaco border – this proved difficult. Multiple charges were put through Haydn's account but no driver accepted the job. Long story short it basically took over an hour to get back down, by which point I was cold and hungry so rather than a glamorous meal we went to Mcdonald's. The silver lining was that they offer all-day breakfast so I could get an egg & cheese McMuffin – my fav! After what had been a really long day I got into bed and had a well-deserved glass of prosecco and read my book.
Day 3 – Saturday 4th February
I slept in a little on my birthday and enjoyed another sunrise from bed, Monaco had really grown on me. As we were flying home Sunday, Haydn booked a room in Nice for our final night which would make it easier to get to the airport on our final morning. This meant that Saturday was our final day in Monaco. My birthday was lovely and chilled which is very me. We had coffee at Larvotto Beach before walking around Monaco for a little while longer before taking the train back to Nice.
Once we arrived in Nice and had dropped our bags at the hotel it was time to spend some time exploring the seaside town. There wasn't anything, in particular, we were planning to do which meant we could take the day at a relaxed pace. We found a pizza place for lunch and were able to eat outside which was lovely. We spent most of the day near the beach, we went for a walk and explored Castle Hill. In the evening we grabbed a quick meal and had an early night, all the walking over the past few days had worn me out so it was nice to put my feet up and chill. The hotel had a bathtub so I was able to run a hot bath and read which is something I always find really relaxing and felt fitting for my birthday. Nice wasn't my favourite place but it was definitely much more convenient to get back to the airport.
Day 4 – Sunday 5th February
I didn't take a single picture on our final morning because, in reality, we didn't have time to do much. We got up and headed straight to the airport. Once at the airport, we grabbed some breakfast, got a coffee and caught the flight home. Usually, our preference is to get late returning flights but the timing of this was actually really nice and overall I felt that we had the right amount of time to do things we had wanted whilst in Monaco. This trip was truly incredible and the fact that Haydn went to so much effort to make it so special just feels amazing.