I originally had this trip booked for 2020 but then a thing happened, not sure if you've heard of it – it was Covid. So that meant Haydn and I had to cancel the trip but we're back, travels back which meant Florida was back!
Day 1 – Wednesday 27th April
The most affordable way for us to get to the US was to fly Manchester to Dublin and then on to Florida. Having the stop did extend the travel time on our first day but it meant we could go through TSA prescreening which would ultimately save us time (and stress) when we landed. We flew with Aer Lingus and were happy with the service plus the flight wasn't that busy, so people could stretch out.
The flight landed in Orlando on time and since we had already been through security we were able to leave the airport soon after landing. From there our Floridian friend Andy, who we were travelling with, picked us up and drove us over to Tampa where we would be spending the first few days of our trip. I'd booked an AirBnB for the three of us which had the cutest front porch with a swing seat and flags – the most wholesome looking American home ever!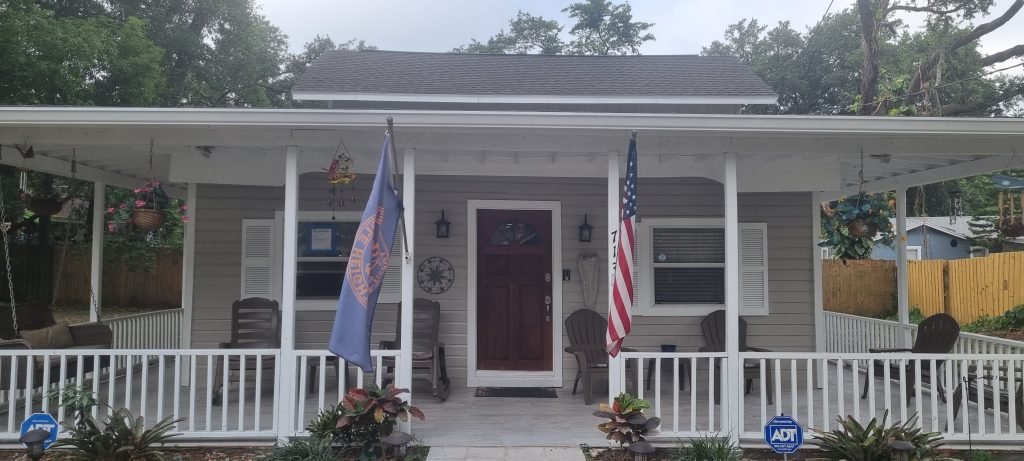 Day 2 – Thursday 28th April
Waking up for the first time on holiday is the best feeling, you can't convince me otherwise. Haydn and I sat out on the porch, I read my book and we enjoyed the early morning heat. To start the holiday on a positive vibe I'd planned a trip to Caladesi Island. The island can only be accessed by Ferry from Honeymoon State Park. It was a really scenic drive from our AirBnB to the State Pake and I couldn't help but smile the entire way there.
After we got on the Ferry we were treated to seeing a pod of wild Dolphins, there were three or four swimming near the dock which was magical! The park rangers on the boat gave us some facts about the island (all of which I've since forgotten) and told us about the single cafe/shop that was open. It was a bizarre feeling going to an island that was uninhabited yet established enough as a tourist spot to have toilets and a place to buy paninis.
Caladesi Island proved to be the best spot to relax and enjoy the most beautiful beach views. The soft white sand was hot enough to burn the bottom of your feet by mid-afternoon and the sea was a relaxing temperature, perfect for cooling off. We laid on the sand, read and just enjoyed the peacefulness. Whilst we both enjoy active holidays, it's nice to have time built into the schedule to simply do nothing.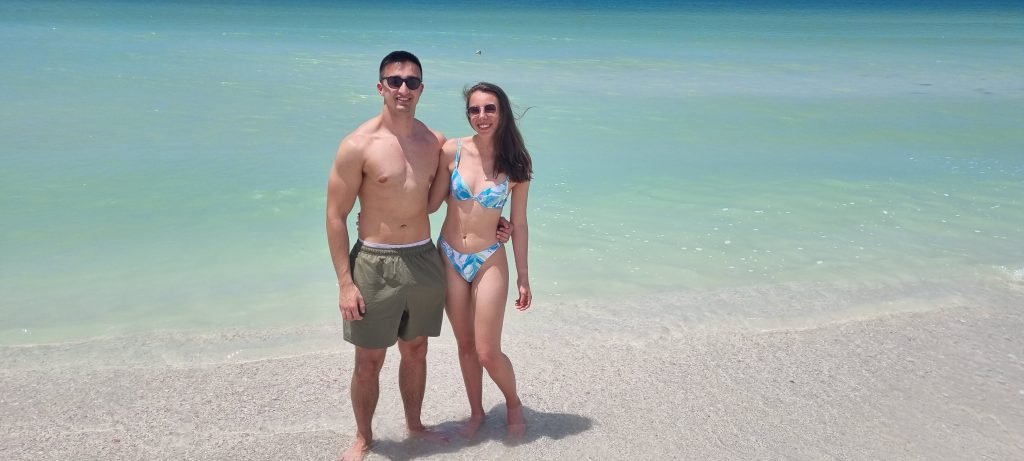 Part of the way we aimed to travel cheaper on this trip was to cook at our accommodation, this meant we only ate out once per day throughout the majority of the trip. The best part of doing this meant we had more excuses to wander around American supermarkets – I absolutely love looking around the supermarkets abroad and America is basically that emotion but on steroids. We picked out some snacks and decided to make pesto pasta for dinner since it was easy and all three of us would like it.
Day 3 – Friday 29th April
During our first visit to Florida, we didn't spend time in Tampa so there was one thing I wanted to do whilst we were there more than anything else. At the top of my list was the Clearwater Marine Aquarium, this was the home of Winter the Dolphin (from the film Dolphin Tale) and continues to do great work for marine life – including my very favourite, sea turtles!
The aquarium is a little expensive, especially since we only spent a couple of hours visiting but I really enjoyed seeing all the Dolphins and it was great to see a glimpse of the high level of care that goes on behind the scenes.
After the aquarium, we left Tampa and drove to Gainesville, which is the college town for the University of Florida and Santa Fe. This is where Andy lives so whilst we stayed here we were able to stay at his apartment. Andy works at Santa Fe and invited us to watch a Planetarium show at the college. The show was hosted by James Albury who has a YouTube series called The Sky Above Us. During the show we were shown the sky that we would be witnessing over the next couple of days and talked through the constellations we'd be able to see.
Day 4 – Saturday 30th April
Somehow over the last 4 months, I've turned into someone who enjoys running and actually wanted to do some exercise whilst on holiday. I got up early on Saturday morning to go for a run whilst Haydn went to the gym. I planned a route that meant I could run around Lake Alice. Despite getting up early it was still incredibly hot and I struggled to complete my usual run but I did make it through 4k. The views during my run made the struggle worth it.
To take a break on my run I decided to walk along to broadwalk through a small forest area. The shade from the sun was nice plus I was treated to some even more scenic views.
After both working out Haydn and I decided to use the rest of the day to relax. The place we were staying was near a Hilton hotel so we decided to have a pool day. We took a couple of towels, some cold drinks and book. It was a really lovely way to soak up some sun and spend the rest of the day. We were even happy as the pool was basically empty so we were able to get ourselves the sofa style double loungers.
That evening the rain set it and we were treated to quite the tropical down pour. The rain started whilst we were watching the UF Bat Houses. Every night just after sunset literally hundreds of thousands of bats wake up and take flight from the houses. They swarm across the sky and make a continuous stream of bats for a good 20 minutes. It was really cool to see and the sound of rain bouncing down on the car afterwards was pure bliss.
Day 5 – Sunday 1st May
I woke up super excited for day 5 because this meant setting off for our biggest drive of the trip – Gainesville to Savannah, Georiga. Going across to another state was for some reason very exciting to me so I was really looking forward to this day in particular. The drive was about 4 hours in total but we decided to make a brunch stop in Jacksonville which is about halfway. We had brunch at Southern Grounds & Co which had a really nice atmosphere and general aesthetic. Haydn went for pancakes which looked amazing! I always like the look of pancakes and for 1 or 2 bites I enjoy it but then that's as far is it goes.
Jacksonville on the whole was a really nice stop. We loved the vibe of the suburban homes and the high street. We didn't go into the main city as were keen to get to Savannah in the early afternoon but we did look across the ocean to the city skyline.
We arrived in Savannah a little before our AirBnB was available so we took the opportunity to go into the main centre and explore. We walked down to River Street where we were able to see Talmadge Memorial Bridge and Savannah River. Haydn and I loved the Spanish moss that hung from the trees and lined all the streets in Savannah, it gave the city such a homely feel.
After we checked into our AirBNB we found a spot for dinner and took a lazy stroll over. We decided to have pizza at a local pizzeria, the staff were lovely but wow the service was slow! We ended up waiting about 2 hours for a pizza despite being one of the only groups in the restaurant. Luckily the pizza was delicious although I'm not sure I'd be willing to wait that long for it again.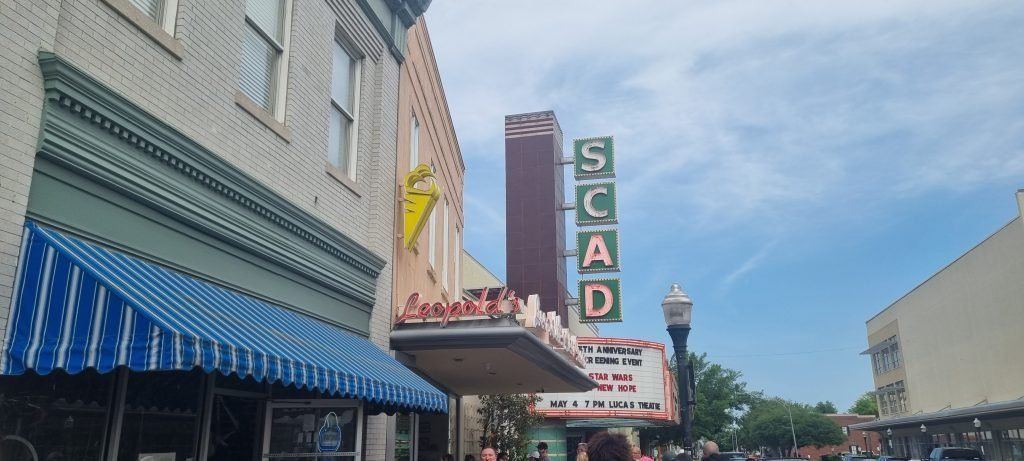 Day 6 – Monday 2nd May
Day two in Savannah was a whole lot of sight seeing! We started with a walk through Forsyth Park and stopped to look at the fountain which looked beauitful in the sunshine surrounded by all the greenery. Haydn and I noted how many people were just relaxing on the grass and enjoy either time with a loved one or a dog. I was keen to go back there later that evening to read my book in the sunshine.
We walked past the SCAD building and decided to go in and listen to the SCAD story. I was expecting a semi boring talk about the history of the university – I was very wrong! This was an interactive 4D experience that was really quite amazing. We loved it!
Carrying on with our sightseeing day we made our way to The American Prohabition Museum. The weather was really hot on this particular day, hotter than any previous day which made walking around a much bigger challenge. Stopping to go into the museum was a great way to get out of the sun and learn a little bit of history. At the end of the museum you enter a Speakeasy style bar and are able to order cocktails that mimic those that were sold back in the 1920s.
We walked to a supermarket to grab some lunch and headed back to our AirBnB around mid-afternoon. After eating Haydn and I headed back to Forsyth Park to laze in the afternoon sun.
Day 7 – Tuesday 3rd May
Before heading back to Gainseville, Haydn and I went on a mission to find a Savannah postcard. I call it a mission because it quite literally felt like one. There was hardly any shops that sold postcards and the ones that did had ugly designs. We eventually settled on one, mostly because we wanted it for our collection rather than liking the design.
On route back we again stopped in Jacksonville for lunch but this time tried a spot called Biscotti. The menu was decent but unfortunately there weren't many options for a veggie (who eats chicken) so I didn't particularly love it. The dessert did make up for it though, we shared a slice of Oreo mouse cake which was delicious! During our stop off we also saw a different part of the waterfront which was lovely to see.
When we arrived back in Gainesville Haydn and I headed back to the Hilton hotel so we could laze by the pool. We ended up staying there until after sunset which was really relaxing. The pool was hot and we enjoyed just being peaceful after a long drive – Haydn and Andy split the driving, I just played passenger but it was still tiring.
Day 8 – Wednesday 4th May
Potentially my favourite day of the entire holiday was Wednesday 4th May. If there is one thing Haydn and I love to do it's explore nature. So when I saw that it was possible to hire kayaks for a day and go for a 9 mile adventure down Santa Fe River I was super excited. The company called Anderson Outdoor Adventures offers an 8 springs in 8 miles experience that was a really reasonable price.
The adventure starts at Poe Springs where you pick up your kayaks and head into the river. Haydn and I opted for a tandem kayak whilst our friend Andy took a single. Before we headed to the river we bought a dry bag which enabled us to take a lunch and our phones with us on the kayak. The views were out of this world and even looking back now I can't believe how incredible the experience was. I was in paradise.
Along the way you see several springs; Lily spring, Mermaid spring, Rum Island spring, Blue spring, July spring, Ginnie spring, Dogwood spring and Twin springs. The journey was amazing and since we were heading down stream the current basically carried us the entire way making it super easy. We took our time with journey and ended up spending around 5 hours in the springs, that included a lunch break. I was super happy because we saw turtles and an alligator on route which was something I had been hoping for.
Day 9 – Thursday 5th May
In the original plan Haydn and I were supposed to head to St Augustine for the night, but instead we wanted to spend the weekend in Orlando, to save money we decided to cancel the trip and hang out in Gainseville instead. Haydn and I borrowed Andy's car and visited Devil's Millhopper Geological State Park which is essentially a big sink hole that you can walk down to and view from a wooden viewing platform.
For the rest of the day we went to the Mall where I picked up a few goodies from Ulta, Forever 21 and Bath & Bodyworks. As it was our last night for dinner with Andy we decided to go to the American classic – The Olive Garden. We had breadsticks, pasta and wine for dinner.
Day 10 – Friday 6th May
Since we were heading down to Orlando which is around a 2 hour drive I was keen to set off relatively early. We were in the car and on the road by about 10:30am which meant we could enjoy most of the day in Orlando. When we arrived we headed to Lake Eola Park which is a scenic spot in downtown Orlando. The three of us did a lap of the lake before heading to ihop for lunch. Again as someone who isn't that into pancakes the choice is pretty limited but Haydn had the best time so for me it was worth it.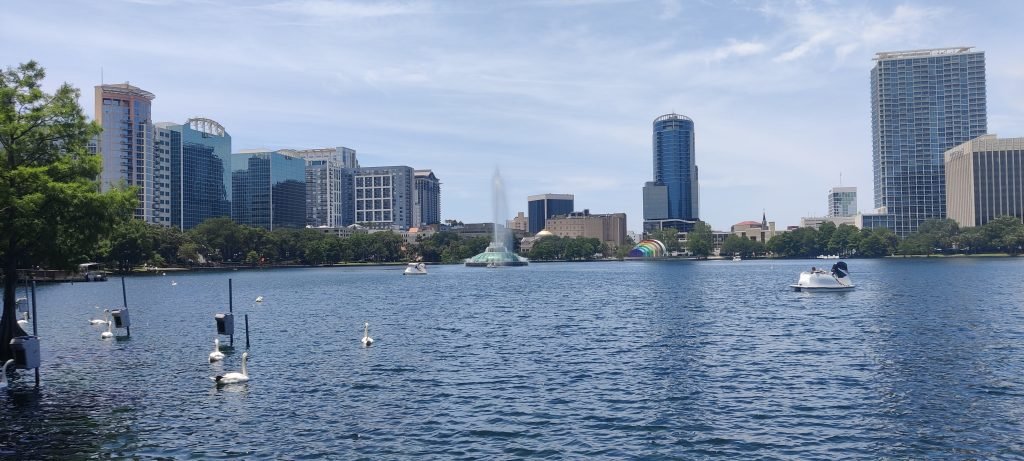 After lunch Andy dropped us off at our hotel and we said our goodbyes. We'd opted for a budget hotel but were still pleased with the pool area and the fact that breakfast was included. Our hotel was right on the IDRIVE which meant we had access to lots of fast food options and other tourist attractions. In the evening we took a walk down and choose another spot for dinner and picked up some snacks.
Day 11 – Saturday 7th May
Theme park day baby! Haydn and I had initially planned not to do one of the major parks whilst on our visit but we changed our minds and ended up purchasing tickets for Universal Studios and Adventure Island. We got a 1 day ticket for 2 parks which would enable us to go across both parks.
As we'd done the parks on our last trip to Florida we weren't in a major rush to cram everything in. Instead we knew we wanted to ride the new Velocicoaster in the Jurasic Park section as well Hagrids Motorbike ride and The Hogwarts Express – all rides we hadn't done on our last visit.
I adored being in the Harry Potter themed areas, Hogsmed and Diagon Alley was the perfect way to fill my heart with pure joy. The new Hagrid ride was incredible we went on it twice over the course of the day. First during daylight in the morning and then again after dark that evening – I cried with happiness the second time because not only was the atmosphere perfect but at the same time, as we rode, fireworks were going off over Hogwarts Castle. Despite taking a more casual pace around the park and taking lots of breaks due to the extremely warm weather, we were able to fit lots of rides into our day. We got to the park for opening and left at close which meant we had nearly 13 hours in the park – we really maximised our value for money.
Day 12 – Sunday 8th May
Since we had a busy day previously we started the day slowly and tried to stay in bed for as long as possible before checking out. The hotel were great and even after checkout we were able to store our bags and use the pool area. We did head to a CVS for some last minute gift and snack buying.
We had an evening flight which meant we would be flying through the night and landing back at Manchester in the morning. Luckily our flight home was direct which I was really thankful for as knew it was going to be a tiring journey.